About:
Rogue Protocol (The Murderbot Diaries #3) by Martha Wells is a science-fiction book following an sarcastic, antisocial cyborg that has gained self-awareness. Ms. Wells is an award winning writer, whose works include many fantasy, science-fiction, and non-fiction books.
160 pages
Publisher: Tor.com
Language: English
ISBN-10: 1250191785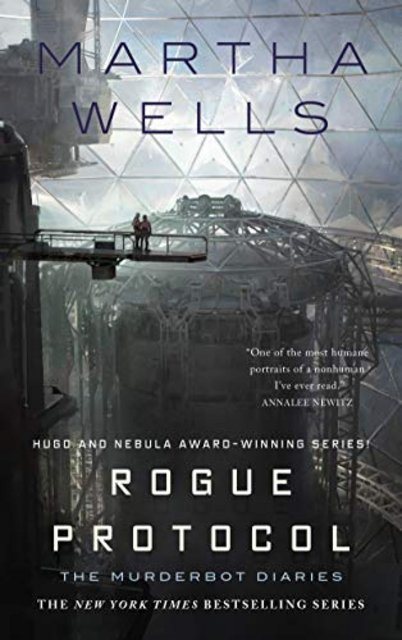 My rat­ing for Rogue Protocol — 4
Buy Rogue Protocol from Amazon.com*
More Books by Martha Wells*
Thoughts:
Much like the previous books All Systems Red  and Artificial Condition, Murderbot's snarky, sarcastic self-aware attitude is the star of Rogue Protocol (Book 3 of 4 in the Murderbot Diaries Series) by Martha Wells. His internal monologue is both funny and introspective, while he talks about hacking, strategizing his plans, attacking enemies, interacting with both robots and humans, while agonizing about sending the "right" physical signals and ticks as to not be found out.
Most amazing is that his book, the third in a series, is a complete joy to read. Murderbot's develop his characters, and creates relationships despite trying very hard not to. The grumbling and complaining the protagonist does internally about the shortcomings of humans, machines, and a combination of both are poignant, funny and somehow move the story along.
In this novella, instead of being attached to a human, Murderbot is actually encounters a robot, Miki, he finds to be friendly and unique. What knocks Murderbot on his butt, figuratively speaking of course, is that Miki's owner, Don Abene, considers Miki a friend, not just a mechanical servant.
The relationship between Miki and Don Abene makes Murderbot reevaluate his relationship with the humans from the first novella, firstbook, especially his legal owner, Dr. Mensah.
While this book could be a standalone, I would highly recommend reading the first two. This novella would make a lot more sense, and would be much more enjoyable instead of reading it as a standalone book.
And they're worth your time.
Ms. Wells keep expanding the universe, and while it is set in the far off future, it is a universe that the reader can appreciate and believe actually exists. As always, the dry humor makes the book very enjoyable and as always, worth reading.
Synopsis:
Our self-aware protagonist, Murderbot, goes off the a deserted terraforming facility called Milu to investigate GrayCris, which is illegally collecting valuable remnants of alien civilizations. For all intents and purposes Milu seems to be abandoned, but Murderbot believes that finding proof against GrayCris will make people forget that he, a rogue weapon, has disappeared.
In his investigation on Milu, Murderbot unfortunately encounters a group of humans their robot assistant Miki, and two suspicious security consultants that need help, and even more unfortunate, changes his plans. Murderbot needs to try and help the humans, while at he same time keeping his cover and figuring out if any of this has anything to do with GrayCris.
Zohar — Man of la Book
Dis­claimer: I got this book from the Tor.com eBook Club.
*Ama­zon links point to an affiliate account
--- Please like and follow ManOfLaBook.com ---