About:
Queenmaker: A Novel of King David's Queen by India Edghill is considered to be biblical fiction. I have studied the bible (both Jewish and Christian) and do enjoy biblical fiction very much.
384 pages
Publisher: Picador; First Edition edition (November 2002)
Language: English
ISBN-10: 0312289197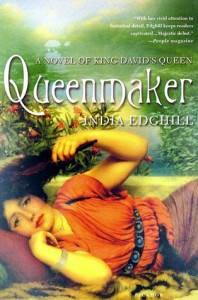 My rating for Queenmaker –
3
Buy this book in paper for­mat
through the Man of la Book Affil­i­ate Account
Thoughts:
I enjoyed India Edghill's (
website
) 
Delilah: A Novel
(
book review
) very much so I figured I'll pick up her novel
Queenmaker
 as a follow-up.
Queenmaker  is a biblical fiction first person narrative of Michal, King David's first wife (out of several) and the one to hold the title of Queen. The book follows the biblical books of Samuel and II Samuel from Michal's perspective; from her humble beginning as a daughter of Saul, a humble farmer, through his ascension to king, wars and madness. After marrying her father's harper / war hero David she helps him escapes her father and for her help gets sold to another man until David's army goes back to reclaim / steal her ten years later only to lock her up in his castle.
Even though Michal did not give King David an heir, being the daughter of King Saul she played an important part of legitimizing David's claim to the throne. The author tells the tale while throwing in a dose of political intrigue, adultery, scandals, palace politics as well as sibling rivalry.
Ms. Edghill's writing is interesting and she weaves quite a story while letting her imagination flow. The book is not difficult to read and quite appealing but I always felt as if something more interesting could have happened, but didn't – as if the author is setting the reader up for a climax and then pulls back.
While I understand the need to take literary license with such stories I feel that some of the finer but important points of the biblical story (such as David and Bathsheba's first born dying) were missing and the author missed the mark on them since they were key points in the lesson of the tale.
Since this book is sold under the biblical-fiction and/or historical-fiction categories I would have liked to know more about the daily lives of the people who lived during that time instead of imagined palace life.
Also…there were typos which drive me nuts; I hope this was fixed in later editions.
Despite the inaccuracies I did enjoy reading the book even though it fell under the "chick-lit" category which, honestly, doesn't speak to me.
This Book Reminded me of:
Delilah: A Novel by India Edghill
Pearl in the Sand by Tessa Afshar
The Gilded Chamber: A Novel of Queen Esther by Rebecca Kohn
Melachim Gimmel (Kings III) by Yochi Brandes
Buy this book in paper for­mat
through the Man of la Book Affil­i­ate Account
Zohar – Man of la Book
Disclaimer: I borrowed this book from the local library.
BOOK BLOGGERS – Have you read Queenmaker? If so link up your review below:
--- Please like and follow ManOfLaBook.com ---