About:
On Her Majesty's Secret Service by Ian Fleming is a top notch thriller is the second of what has become the "Blofeld Trilogy", preceded by Thunderball (book review) and concluded with You Only Live Twice (The Spy Who Loved Me was written in between but is not included in the trilogy).
269 pages
Publisher: Thomas & Mercer
Language: English
ISBN-10: 161218555X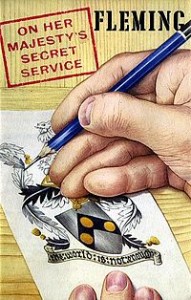 My rating for On Her Majesty's Secret Service –5
Buy this book in paper or elec­tronic format*
Books by Ian Fleming*
Thoughts:
The plot of On Her Majesty's Secret Service by Ian Fleming finds Bond and M in a disagreement about SPECTRE and Blofeld, Bond thinks SPECTRE no longer exist, M thinks they do. In frustration Bond resigns from MI6 (or rather hands in a resignation letter) only to meet Teresa di Vincenzo, a suicidal young woman who he saves from drowning. Teresa's (Tracy) father, Draco, is the head of Europe's biggest crime syndicate organization, who in order to save his daughter offers her hand to Bond.
Bond refuses to the marriage, but agrees to continue romancing Tracy.
Draco informs Bond that Blofeld is hiding n Switzerland under an assumed title and name – Bond infiltrates SPECTRE and death and destruction ensues in the best of the Bond tradition.
This short novel is Fleming at his best, balancing the debonair, masterful spy with the problems each of us "mortals" is faced when succumbing to the arrows life swings at us.
Which one of us was not bitter at his boss or a work related disagreement?
Even though this is a "middle" book, as mentioned in the opening paragraph, it's a complete story with a beginning, middle and an end – not just a filler. Of course the book can be read on its own, but I recommend reading Thunderball first.
 Buy this book in paper or elec­tronic format*
Books by Ian Fleming*

Zohar — Man of la Book
Dis­claimer: I bought this book.
*Ama­zon links point to an affil­i­ate account
--- Please like and follow ManOfLaBook.com ---