About:
May Bird and the Ever After by Jodi Lynn Anderson is a fictional book targeted at young adults and young at heart. This is the first of a series starring the young lady May Bird.
Paperback: 352 pages
Publisher: Aladdin
Language: English
ISBN-10: 141690607X
Age Range: 10 – 14 years
Grade Level: 5 – 9
Series: May Bird (Book 1)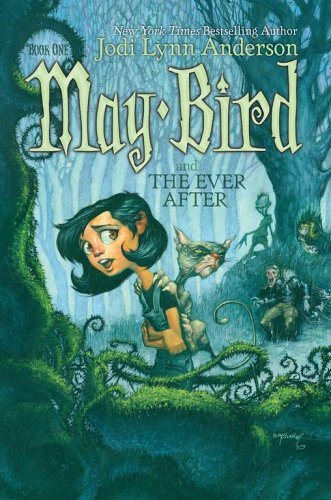 My rating for May Bird and the Ever After – 4
Buy this book in paper or elec­tronic format*
More Books by Jodi Lynn Anderson
Thoughts:
I had to read May Bird and the Ever After by Jodi Lynn Anderson!
My daughter (age 9) brought the book home, her teacher lent it to her. I read the first 2 pages and commented how much I liked it – honestly, I did like it as the first page or two reminded me of the writing of Neil Gaiman.
Next thing I know, my daughter happily brings me another copy of the book to read.
So you see… I had to read this book!
Not to mention that I make it a habit to read every book my kids read so we could talk about it and also to pay attention to what they like, dislike or interested in.
Regardless of the targeted age group, I enjoyed much of the book. It's an easy, fast read telling an imaginative story. I enjoyed the dark humor and characterization and even though I though the book might be a bit too dark and morbid, I still enjoyed the majority of the tale.
Somewhere around the middle the book lost me, the parade of Burtonesque (yes, I made that up) parade of crazy, morbid character seemed endless and the adventures move at a breakneck speed. However, the story soon picked up again to a very creative ending.
While dark, I think the book will find fans amongst the targeted age group and above. Overall, this was an enjoyable book, a quick read and great fun.
Synopsis:
May Bird is a skinny loner who aren't too comfortable ins school, but very comfortable in the woods near her home of Briery Swamp with her cat / guardian, Somber Kitty.
One day May Bird ventures further than she's ever been and falls into the lake. As she crawls out she finds herself in the after world with ghouls, ghosts and monsters. Only the Book of the Dead can get her back to her own universe, but first she has to go through the evil Bo Cleevil.
Buy this book in paper or elec­tronic format*
More Books by Jodi Lynn Anderson
 Zohar — Man of la Book
Dis­claimer: I got this from my daughter (who borrowed it from her teacher).
*Ama­zon links point to an affil­i­ate account
--- Please like and follow ManOfLaBook.com ---