About:
Look Who's Back by Timur Vermes is a German best seller which has been translated to several languages. The novel has sold more than a million copies in Germany alone.
Publisher: MacLehose Press
Language: English
ISBN-10: 0857052934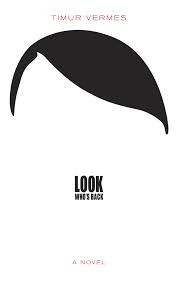 Mu rating for Look Who's Back – 5
Buy this book in paper or elec­tronic for­mat*
Thoughts:
Look Who's Back by Timur Vermes is a hilarious, yet poignant look at today's world through the eyes of one of its most horrific villains. The novel never explains how Hitler time traveled to 2011, only that he woke up in an alley and that his memory stops a few moments/hours before he dies.
Hitler, the megalomaniac, sees the world as if he is the only sane man left. Mad women pick up dog poop, the youth has not respect and the airwaves are filled with garbage. At some point he even justifies how Chaplin's "cheap and shoddy" film, The Great Dictator, got less hits then him on U-Tube because it's been on for 75 years.
Mr. Vermes uses this platform to provide social commentary about the world at large and Germany in particular. In the novel, Hitler plays the straight man to the politicians and business leaders who are the actual jokesters. Both the TV executives and the newly revived Füehrer agree that "The Jews are no laughing matter", them because of the sensitivity of the subject, Hitler because he still thinks the Jews are a serious problem.
The book ends on a somewhat disturbing note, political parties of all colors are call "the comedian" up with offers to run for office. However, the political and social satires translate will through the language barrier as the translator, Jamie Bulloch, did a fantastic job in the writing as well as a translator's note at the end explaining some of the references (my recommendation is to read that in the beginning) which might not be obvious to either native Germans of World War II history buffs.
Synopsis:
Adolf Hitler wakes up, in uniform, in the middle of Berlin – the year is 2011. Failing to find his bunker, or get proper respect from strangely dressed "Hitler Youth" members, Hitler shacks up with in a newspaper kiosk. Hitler discovers a weak society, one full of "Turks", disrespectful youths, and … led by a woman.
Never one to be shy about his opinions, Hitler is soon discovered by TV talent agents who mistake his political diatribe to satirical genius. Soon Hitler gets his own TV program and a "U-Tube" sensation. His rants about the poor working class, foreigners, and the welfare state are a sensation with the German public who had had enough with modern politics..
"He's Back, and he's Führerious"
Buy this book in paper or elec­tronic for­mat*
Zohar — Man of la Book
Dis­claimer: I got bought this book.
*Ama­zon links point to an affil­i­ate account
--- Please like and follow ManOfLaBook.com ---