"
Let the Great World Spin
" by
Colum McCann
is a series of well written
short stories
, which ultimately get
intertwined
. These
fictional
stories happen around the cultural touchstone of Philippe Petit stringing a cable between the two towers of the World Trade Center and walking the distance, to the amazement of the people below.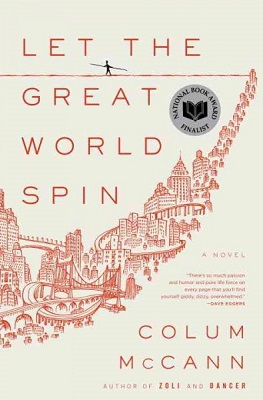 My rating for Let the Great World Spin –

2
Buy Let the Great World Spin from Amazon.com*
More Books by Colum McCann*
The book begins slowly as we are introduced to two Irish brothers on the other side of the Atlantic; Corrigan, a soon to be monk, and his brother Ciaran who has no goals or aspirations. The brothers find themselves in The Bronx where Corrigan takes several prostitutes under his care, brings them coffee and allows them to use his bathroom between tricks.
The story expands as the brothers' story crosses aging prostitutes, as South American nurse, a Park Avenue housewife, a budding artist who left her rich Southern family to create art up north and several others.he news that Petit walked between the two towers have eclipsed that of the Richard Nixon resignation and the Vietnam War – even though both are lurking in the background and raising their ugly heads every now and then. McCann uses the tightrope stunt as a way to tie all the separate stories to a memorable day, Petit is not even mentioned by name in the novel. The problem is that it all seems forced, as if the author had a bunch of short stories laying around and added some a few paragraphs to tie them all in a neat package to be bounded up and put on the shelf.
McCann uses different voices, styles and speeds while shifting between the stories. Some work better than others as new people keep appearing, each one inevitably linked to the past and the future. That makes a strange mosaic of not only storytelling, but also quality of the writing as some stories are much better than others. Don't get me wrong, there are some brilliant passages in this book, but they get bogged them.
I forced myself to finish the book, I wanted to find out what was so great about this book that it made the "best of…" list every time. What I discovered was an interesting story, sometimes frustrating, which often seemed more like a rough draft than the finished masterpiece it was promised to be simply because the stories aren't told to the reader, they are being explained.
"Let The Great World Spin" is not horribly bad, but not really great either. The stories are amusing but, like the high wire act which they all reference, half are good and the others splash on the pavement. The author is very capable of beautiful prose; however he takes a very long time to say nothing.
Buy Let the Great World Spin from Amazon.com*
More Books by Colum McCann*
Zohar — Man of la Book
Dis­claimer: I borrowed this book
*Ama­zon links point to an affil­i­ate account, the money is usually spent on boo
--- Please like and follow ManOfLaBook.com ---
Summary
Reviewer
Review Date
Reviewed Item
Let the Great World Spin by Colum McCann
Author Rating





Product Name
Let the Great World Spin by Colum McCann