About:
"The American Bar Association's Legal Guide to Independent Filmmaking" by Michael C. Donaldson and Lisa A. Callif is a guide to help an individual sift through the mountains of legal forms in order to produce an independent film. The book includes a CD-ROM with the forms in MS-Word format.
The publisher has been kind enough to make available two (2) copies for those who are interested.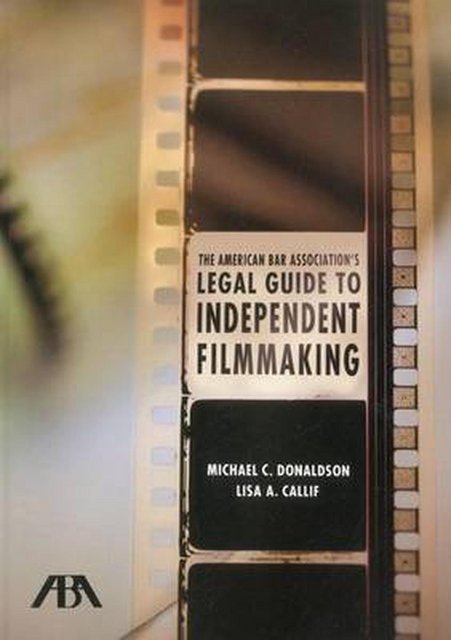 Buy Legal Guide to Independent Filmmaking from Amazon.com*
Thoughts:
What am I doing reviewing a legal guide?
When I was contacted by Laurén at MWPR | Entertainment Public Relations my first response was "thanks but no thanks".  I said that I was not in the movie business and might possibly be able to review the book as a book – but I have no idea if the content of the guide is helpful or even accurate.
Laurén said that it's OK and sent me the book anyway.  That was just fine with me as I am interested in movies as well as find the law fascinating.
After I read the book I gave it my friend Jonathan Mankuta (IMDB profile).  Jon has been a friend for many years, he is an actor ("Lost", "Hollywood Treasure") and fellow lover of the written word.  Jon kindly agreed to take a look at the book and give me his professional opinion on it since he is more likely the target audience.
The book is an easy to read overview of the process, in layman's language, targeting those in the entertainment industry from novices to experienced professionals. The book starts at guiding you though the maze of developing property all the way to the delivery of the final product.  The guide can, and I believe is meant to, be used as a reference and does not necessitate to read it straight through.
in the guide there are also sample legal forms with hints and suggestions in bold letters inside the form.  That is a great idea, the hints/ideas are not a matter-0f-fact on how to fill out he forms correctly, but negotiating tips, explanation of terms, how to write a description, etc.
Many of us have experienced dealing with obscene amounts of legal mumbo-jumbo for transactions which should be simple.  For example: buying a house – a simple transaction between two interested parties weighed down by paperwork for the sole reason to make it as difficult as possible for those who aren't lawyers.
OK, it might not be the sole reason, another reason might be so that you won't understand what you're signing.
But I digress.
A CD-ROM comes with book which contains 19 MS-Word documents of the forms, agreements, contracts and licensing deals.
Synopsis:

The book is divided into six chapters:
Chapter 1: Acquiring and Developing a Property – where one learns how to get one's vision started on a solid ground and keep on running.
No big deal, right?
It is if you don't protect yourself and someone steals your idea.  I've heard there are at least two or three ruthless people in the entertainment industry.
Chapter 2: Financing Your Plan – to make a movie you need money – lots of money and this chapter will guide one through such mazes as equity financing (in a separate section) and basic business decisions.
Chapter 3: Putting Together the Team – hiring your friends might sound splendid for a second or two, but even then making them sign an agreement is a good idea.
Chapter 4: Principal Photography – there is an idea, a team and money – now what? One must know about rental and location agreements, crew deal memos, union contracts and more.
Chapter 5: Distribution – you made the great American movie, but you need people to see it.
Chapter 6: Delivery – it's great to have advice about stuff you thought about – but what about stuff you didn't think about.  This chapter discusses such cases.
Buy Legal Guide to Independent Filmmaking from Amazon.com*
Rules:

Contest is for one (1) new copy of the book with the CD-ROM
There will be TWO WINNERS

Must be a US mailing Address
Ends Sunday December 12, 2010

Congratulations to:
Zohar – Man of La Book
Related articles
--- Please like and follow ManOfLaBook.com ---