About:
Ivanhoe by Sir Walter Scott is a popular fictional novel invoking England's middle ages. The novel was released in 1820 and is credited with spiking the interest in credited Romanticism and Medievalism.
622 pages
Publisher: Oxford University Press
Language: English
ISBN-10: 0199538409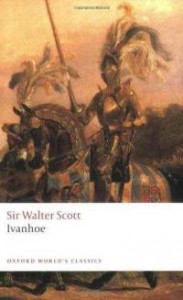 My rat­ing for Ivanhoe — 5
Thoughts:
Ivanhoe by Sir Walter Scott, a magnificent novel which is just as exciting today as it was when it was written. A fun book of chivalry, love and adventure.
Scott peppered this adventure story with many colorful characters, some historic and some fictional, Richard Lion-Hearted and his brother John, Isaac of York and his beautiful gentle daughter Jewess Rebecca, the gorgeous Rowena, Cedric the Saxon, Sir Brian de Bois-Guilbert the famous Knight Templar and Robin Hood and his Merry Men. All are depicted vividly , multidimensionally in an interesting and absorbing tale which engrossed me and was absorbed into my consciousness.
Ivanhoe, coming back from the crusades, is faced with a changing world. The ancient world the protagonist left is in conflict with the modern world (relatively speaking) which he came back to. Normans and Saxons, Jews and Christians, the acts of individuals and the granddaddy of all conflicts – good vs. evil.
The world Scott created, an ancient world still believing in fantasies and prejudices, is in conflict with itself, wanting to be modern but not being able to let go of its old self. The conflicts in the book range from the straightforward jousts to the conflict within ourselves (Ivanhoe's and Rebecca's relationship).
On many levels, Ivanhoe is a modern tale and probably just as relevant. Scott's cynicism and humor are timeless, his conflicts of ancient vs. modern are still relevant today and probably in any day and age.
Synopsis:
Wilfred of Ivanhoe, a Saxon knight who has just returned from the Crusades and is still loyal to Richard Plantagenet. Ivanhoe returns to a disapproving father who disinherited him because of his alliance to Richard and his love the Lady Rowena. But the protagonist doesn't announce himself, and takes on the guise of Knight of Ivanhoe, The Black Knight, which causes many collisions.
Prince John's plan to usurp his brother, Cedric wants a rebellions, Maurice de Bracy just wants Rowena and Sir Brian de Bois-Guilbert wants Rebecca the Jewess. However all their plans are put on hold when they are all stuck together in a castle siege. Upon the return of King Richard, kaos ensues and The Black Knight is obliged to fight in order to save Rebecca from burning as a witch.
Buy this book in paper or FREE in elec­tronic format*
More Books by Sir Walter Scott
Zohar – Man of la Book
Dis­claimer: I got this book for free.
*Ama­zon links point to an affil­i­ate account
BOOK BLOGGERS – Have you read Ivanhoe? If so link up your review below:
--- Please like and follow ManOfLaBook.com ---