About:
In the Shadows of Men by Robert Jackson Bennett is a novella taking place in a west Texas motel that is being renovated by two brothers, when strange things start to happen. Mr. Bennett is an award winning author, mostly known for his science-fiction and fantasy novels.
120 pages
Publisher: Subterranean
Language: English
ISBN-10: 1596069872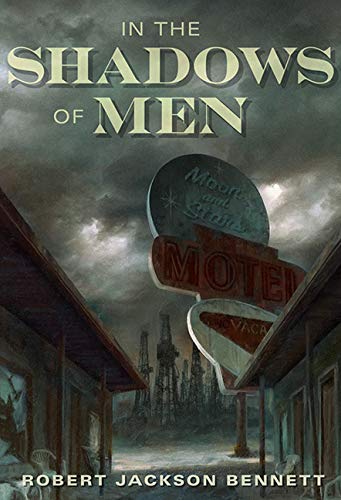 My rat­ing for In the Shadows of Men— 4
Buy In the Shadows of Men from Amazon.com*
More Books by Robert Jackson Bennett*
Thoughts:
I have enjoyed Mr. Bennett's Founders series and when I saw his name attached to another book I immediately picked it up. In the Shadows of Men by Robert Jackson Bennett did not disappoint, it is a tight novella telling a dark story with supernatural themes.
This is a very atmospheric story, everything from the old motel to the dusty Texas weather comes across in a clear and evocative manner. I'm not much for horror stories, but this one had me on edge, especially when the supernatural is suggested, not necessarily shown.
The Pough brothers think they are creating opportunity for themselves after their lives turned upside down by buy a motel that belonged to a distant relative.  Each one is dealing with his own demons, while the motel, it seems, has plans of its own.
When I was about half way in the novella, I didn't know if I was reading a supernatural story, or one about a man's sanity spiraling down to oblivion. It turned out that this story is a bit of both, exploring the traumas of childhood and how it affects adults' lives.
Even though I don't enjoy horror or ghost stories, I enjoyed this novella very much, even though it is not something I would normally read. The author is good at what he does, writing, so I would imagine that the genre wouldn't matter much.
Synopsis:
In a small, desolate town in west Texas, the Pugh  brothers bought a motel with the intent of renovating it and making their fortune. Each brother has a history of tough luck, trauma, shame, abuse and of course a dysfunctional environment they grew up in.
Only that they haven't yet realized how dysfunctional.
Slowly they start to discover that the motel, owned by a relative of theirs, has its own checkered and horrible history.  But not only are they changing the motel, turns out the motel is changing them as well.
Buy In the Shadows of Men from Amazon.com*
More Books by Robert Jackson Bennett*
Zohar — Man of la Book
Dis­claimer: I got this book for free.
*Ama­zon links point to an affiliate account
--- Please like and follow ManOfLaBook.com ---