About:
How I Learned to Hate in Ohio by David Stuart MacLean is a novel which take places sometime in the 1980s about a friendless teenager and his foreign friend. Mr. MacLean is a an award-winning writer from Chicago, this is his debut novel.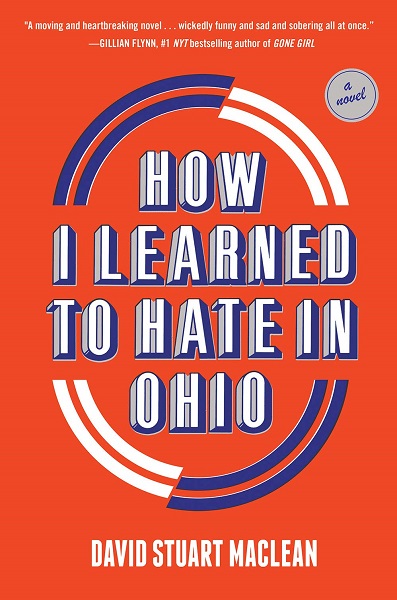 My rating for How I Learned to Hate in Ohio – 4
Pur­chase How I Learned to Hate in Ohio  from Amazon.com*
More Books by David Stuart MacLean*
Thoughts:
I didn't know what to expect from How I Learned to Hate in Ohio by David Stuart MacLean, but I figured a novel set in the 80s, which I remember too fondly, revolving around racism and xenophobia, which I remember not fondly, will be interesting. The story is told from the point of view of a bullied American teenager, whose eyes are suddenly opened to the hidden character of those around him.
The novel could be considered a dark comedy for the most of it. Barry is nicknamed "YoY o Fag" by his classmates, and just exists for the sake of finishing school in one piece and leaving. When Gurbaksh, the Sikh shows up, Barry's life changes and they boys face issues they chose to previously ignore.
The book is very enjoyable and easy to read. The chapters are short and poignant capturing the mentality of a teenager unsure about himself, learning about life, sees his parents in a different light, and starting to realize that the girls are even more mysterious than they seem previously.
This is a book that's meant to be discussed, there are many issues which, unfortunately, we see playing out in real time during 2020. The book puts a spotlight on issues none of us want to believe exist, but we know that they do. The story could be told in any small-town, not just Ohio. Could be in New Jersey, California, Texas, or the Dakotas.
The book's first part is clever and tight. The second part of the novel becomes darker as it moves along dealing with homophobia, racism, and xenophobia in a small American town. This would be an excellent choice for a book club since there are many themes that could be discussed.
Synopsis:
Baruch "Barry" Nadler is a freshman in high school with the impossible goal of finishing his high-school career unnoticed. When a new kid shows up, a Sikh teenager named Gary (Gurbaksh), the two become friends.
Unlike Barry, Gary is outgoing and mischievous. However, Barry begins to see how classmates, family, and the town people react to a Sikh family in town.
Pur­chase How I Learned to Hate in Ohio  from Amazon.com*
More Books by David Stuart MacLean*
Zohar — Man of la Book
Dis­claimer: I got got this book for free.
*Ama­zon links point to an affiliate account
--- Please like and follow ManOfLaBook.com ---