About:
"Hotel on the Corner of Bitter and Sweet" by Jamie Ford (Website | Twitter) is a fictional book set during a volatile time in American history. Jamie Ford has created intriguing characters telling an extraordinary story.
301 pages
Publisher: Ballantine Books
Language: English
ISBN: 0345505344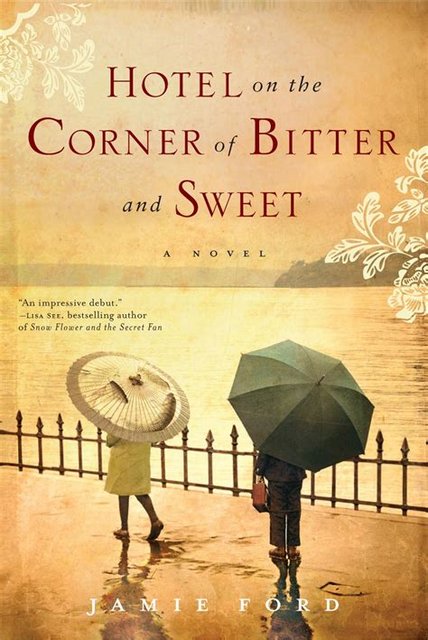 My rating for Hotel on the Corner of Bitter and Sweet – 4
Buy Hotel on the Corner of Bitter and Sweet from Amazon.com*
More Books by Jamie Ford*
Thoughts:
"Hotel on the Corner of Bitter and Sweet" by Jamie Ford is a very good book, easy to read, written in cinematic detail and vividness. The characters of Henry and Keiko are memorable and very likable.
The book touches on a part of American history which is rarely talked about, the internment camps built for Japanese Americans (not Italians or Germans mind you) during World War II. Those who were put in the camps lost all their possessions, wealth, businesses, social standing etc.
The story is multi-dimensional, and explores the relationship between a first and second generation Chinese Americans (Henry and his father), second and third generations (Henry and his son) and of course the love story which is the central theme between the Japanese American Keiko, whose family embraces being Americanized, and the Chinese American Henry, whose family tries to stick with the old Chinese traditions.
What bothered me about the book is Henry's young age and how he was allowed, at the age of 12 or 13, to simply pick up and go for a few days, especially from a very demanding and strict father.
However, that is a minor complaint, the book was a satisfying read about an important and ignored part of American history.
Mr. Ford does an excellent job describing Seattle and its historic buildings  as well as historic figures such as Oscar Holden.
Synopsis:
Henry Lee comes upon a crowd gathering outside the Panama Hotel in Seattle. The hotel has been boarded up since the beginning of WWII and the owner discovered the belongings of Japanese families which were forced to leave to internment camps.
The story continues in the 1940s where Henry's young mind and small world are a mixed, confused and exciting. Henry's father, obsessed with the war in China wants Henry to grow up American and send him to the exclusive Rainier Elementary. However, Henry gets picked on when he is not being ignored. At the school Henry meets Keiko Okabe, a young American of Japanese descent. A friendship is forged between Henry and Keiko despite curfews, blackouts and FBI raids. When Keiko and her family are sent to an internment camp Henry hopes he'll see her again.
The narration by Henry alternated between 1942 and 1986.
Buy Hotel on the Corner of Bitter and Sweet from Amazon.com*
More Books by Jamie Ford*
Zohar — Man of la Book
Dis­claimer: I bought this book
*Ama­zon links point to an affil­i­ate account, the money is usually spent on books
Related articles
This post is in the 66th

Published at Book Reviews by Rick Sincere.
BOOK BLOGGERS – Have you read "Hotel on the Corner of Bitter"? If so link up your review below
--- Please like and follow ManOfLaBook.com ---
Summary
Reviewer
Review Date
Reviewed Item
Hotel on the Corner of Bitter and Sweet by Jamie Ford
Author Rating





Product Name
Hotel on the Corner of Bitter and Sweet by Jamie Ford