I got this book for free as part of the TLC Book Tour pro­mo­tion.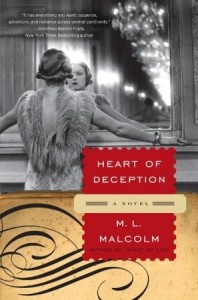 My rating for Heart of Deception – 3
About:
"Heart of Deception" by M.L. Malcolm (website | Facebook) is the fictional sequel to "Heart of Lies" (book review) picking up with the same cast of characters after World War II.
352 pages
Publisher: Harper Paperbacks
ISBN: 0061962196
Pur­chase "Heart of Deception" through the ManOfLa­Book affil­i­ate account on:
Ama­zon |Book Depos­i­tory US | Book Depos­i­tory UK
Thoughts:
"Heart of Deception" by M.L. Malcolm is a followup to her first book. Unlike the first book, this is not a character study but it does move in the same fast pace.
What disappointed me about the book is that most of it does not take place during World War II as was insinuated. The parts that do take place around that time, which I found interesting, were almost glossed over. There are so many promising premises which could have been expended, Leo's Jewish heritage, his plight to get home etc. None were explored and if they were – vaguely.
While Leo is touted as the main protagonist, the books is actually about Maddy, Leo's daughter. That might explain why Leo's adventure are either overlooked or quickly glossed over. Much like "Heart of Lies" this book is neither here nor there. It is not an espionage novel, nor historical fiction, nor is it a romance, the book does a good job combining genres but I felt as if something was missing.
That being said, the book is a quick read and I did enjoy it especially after reading the first one. I don't know if this would be a standalone book, I'd be interested to read what others say. The characters do come with baggage and reading "Heart of Lies" certainly made it more enjoyable. There is a recap of what happened in "Heart of Lies" during the first several chapters, but I didn't get the feeling that the unaware reader would experience the same level of enjoyment unless they read the books in order.
I did enjoy the interaction of Ms. Malcolm's fictional characters with those who really existed such as Colonel William Eddy, Major Peter Wilkinson and super-spy Krystyna Skarbek aka Christine Granville.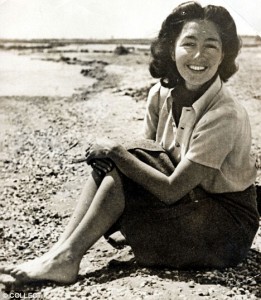 So tell me, do you think books in a series MUST be standalone books?
Synopsis:
Spy extraordinaire Leo Hoffman is, again, in some forsaken place trying to get a government, any government, secure a safe corner in the world for him and his daughter. Leo's daughter, Maddy, is living with her aunt in Englewood Cliffs, NJ oblivious to the issues her father is dealing with. The aunt is Leo's sister in law and still blames him for her sister's death.
Maddy does not wait for her father, she lives her life, falls in love and make mistakes. She tries to find herself and discovers that life always throws curve-balls, spy or not.
Pur­chase "Heart of Deception" through the ManOfLa­Book affil­i­ate account on:
Ama­zon |Book Depos­i­tory US | Book Depos­i­tory UK
TLC Book Tour for "Heart of Deception":

Tuesday, April 5th: Unabridged Chick
Wednesday, April 6th: My Two Blessings
Thursday, April 7th: Diary of an Eccentric
Monday, April 11th: Rundpinne
Tuesday, April 12th: Amused By Books
Wednesday, April 13th: Book Journey
Tuesday, April 19th: Reading Through Life
Thursday, April 21st: I'm Booking It
Monday, April 25th: Man of La Book
Tuesday, April 26th: Chocolate & Croissants
Thursday, April 28th: BookNAround
Friday, April 29th: Booksie's Blog
Friday, April 29th: Chefdruck Musings
Zohar – Man of la Book
Related articles
BOOK BLOGGERS – Have you read "Heart of Deception"? If so link up your review below:
--- Please like and follow ManOfLaBook.com ---