About:
Harry Potter and the Sorcerer's Stone by J.K. Rowling is the first book of the popular Harry Potter series. I am reading these books with my kids, who love the movies and are enjoying the books.
243 pages
Publisher: Scholastic
Language: Spanish
ISBN-10: 059035342X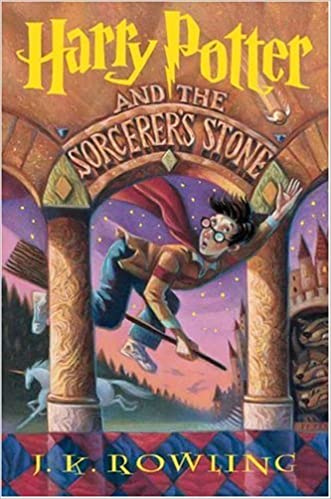 My rat­ing for Harry Potter and the Sorcerer's Stone — 3
The Kids' rat­ing for Harry Potter and the Sorcerer's Stone — 4
Buy Harry Potter and the Sorcerer's Stone from Amazon.com*
More Books by J.K. Rowling*
Thoughts:
I have always wanted to read the books in this series, just because they were a pop-culture phenomena, but never found the time, or frankly never made the time, for them. When my children decided, to my delight, decided to read them I made the effort to read the books with them and compare notes during dinner.
I hope it will last.
I don't know what I expected from Harry Potter and the Sorcerer's Stone by J.K. Rowling, it's an OK storyline, the world building is fantastic and very imaginative. I enjoyed the magical world very much, as well as the interaction of the Weasley family among themselves and with those surrounding them.
Overall I thought the book was a fun read, humorous and creative. I don't know if I would have enjoyed it as much if I didn't see the movies, and pop-culture cloud around them. That, however, I see as a positive, whatever gets people reading more is something I can certainly get behind enthusiastically.
I have to admit that I'm not a fan of stories featuring heroic children, never was. Maybe that's why I held off for so long reading the book. It seems like Harry Potter is a great hero without really doing anything, he is famous and doesn't know why, everyone is fawning all over him and he doesn't know why, he has gifts thrown his way, most of the teachers love him… just because, the best player on the team, and of course he saves the day. All without actually deserving or working for any of it.
In short, someone I'd hate.
Putting my pettiness aside, this was a fun, charming, and fast read, and works well for younger teens. My kids were a bit bored with the book, but I'm reading the second installment now and am actually enjoying it more, hopefully they'll continue with a bit of effort.
Synopsis:
In this book we are introduced to "the boy who lived", Harry Potter a legend in the wizarding world for surviving, and maybe defeating as a baby, the most powerful dark wizard that lived. Harry gets invited to Hogwarts School of Witchcraft and Wizardry, a boarding school which he makes new friends and enemies, as well as learning about himself, his family, and his newfound powers.
Buy Harry Potter and the Sorcerer's Stone from Amazon.com*
More Books by J.K. Rowling*
Zohar — Man of la Book
Dis­claimer: I bought this book
*Ama­zon links point to an affil­i­ate account
--- Please like and follow ManOfLaBook.com ---