About:
Hanns and Rudolf: The True Story of the German Jew Who Tracked Down and Caught the Kommandant of Auschwitz by Thomas Harding is a non-fiction book detailing the capture of the notorious and elusive Rudolf Höss. Mr. Harding started researching his family history and discovered and amazing story. Mr. Harding heard that his relative tracked down the notorious criminal and, while investigating, wrote this book.
368 pages
Publisher: Simon & Schuster; First Edition edition (September 3, 2013)
Language: English
ISBN-10: 1476711844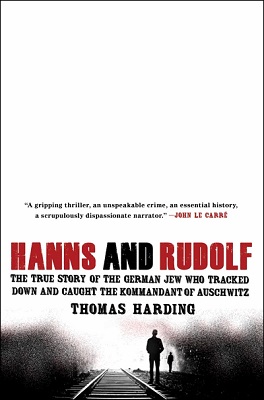 My rat­ing for Hanns and Rudolf— 5
Buy this book in paper or elec­tronic for­mat*
More Rec­om­mended World War II books on Man of la BookStore
Thoughts:
Hanns and Rudolf: The True Story of the German Jew Who Tracked Down and Caught the Kommandant of Auschwitz by Thomas Harding is an absorbing book, a story told with gusto and admiration to his ancestors. Mr. Harding heard about his relative's contribution to world justice during his funeral and went about researching.
As it turns out, Jewish German immigrant Hanns Alexander was a Lieutenant in the first British war Crimes Investigation Team during the war and was responsible for the capturing of Höss.
The chilling part, for me, about the book was the descriptions of Höss as an efficient manager, and a good commander to his soldiers. He knew what he was doing, created and managed a murderous enterprise in a cold, calculating way and somehow justify it in his writing as simply "following orders".
Höss tries to shift responsibility from himself, however the author makes it clear that Höss was a major culprit in mass murder and even using his own words against him. After all, Höss didn't hate Jews as individuals but as a race and he says so in his autobiography.
The story of Hanns is intriguing as well, Mr. Harding does not portray Hanns as a victim, but as a strong Jewish boy who is eager to fight against the country that betrayed him. The author tells of Hanns as a person who loved life, had a wicked sense of humor but a sense of honor.
Both men were family men, which seems strange for Höss. that is one of the things I could never understand is how those that worked in concentration camps were able to separate to such extremes as the horrors they were participating in (even secretaries) and the simple joys of life such as family and picnics.
Mr. Harding wrote a strong, thought provoking, fascinating book which, most important of all, is a family heirloom and an homage to a relative who has passed away. I found the book to be well researched, an easy read and a window into a time where the ideal of right and wrong was clearly defined.
Buy this book in paper or elec­tronic for­mat*
More Rec­om­mended World War II books on Man of la BookStore
Zohar — Man of la Book
Dis­claimer: I got this book for free.
*Ama­zon links point to an affil­i­ate account
--- Please like and follow ManOfLaBook.com ---