About:
Gideon the Ninth by Tamsyn Muir is the first book in The Locked Tomb trilogy, and follows a swordswoman serving a necromancer, vying for eternal life. Ms. Muir is an author from New Zealand, who has been nominated for several awards in the horror / fantasy / science-fiction genres.
448 pages
Publisher: Tor.com
Language: English
ISBN-10: 1250313198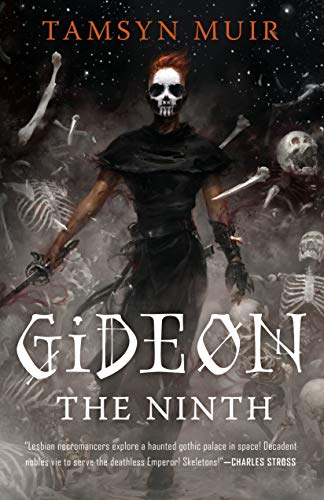 My rat­ing for Gideon the Ninth — 5
Buy Gideon the Ninth from Amazon.com*
More Books by Tamsyn Muir*
About:
Gideon the Ninth by Tamsyn Muir is an insane book, in a good way. This is a Kill Bill in book form, a bunch of cool "scenes" put together through a tight narrative. Funny, with great chorography of sword fighting, cinematic and a tight, wonderful narrative to put it all together.
We're shown Gideon as a character who is thrown into a world she doesn't understand, growing up in, for all intents and purposes, an abusive death cult. All Gideon knows is a world of pain, and that pain doesn't end if you die, but you simply resurrected as a servant to continue another lifetime, or many lifetimes, of suffering.
Gideon is a snarky, violent, woman, but when she starts interacting with other characters she starts to develop. We also get to know Gideon through how people react to her, not only how she reacts. In the first quarter of the book, both the reader and Gideon have a hard time understanding what's going on. If it's on purpose, it's brilliant, if not it still works but frankly that part of no one knows what's going on is too long.
The one character which is enigmatic is Harrowhark, who is the cult leader of the Ninth. As a leader she does not merit any loyalty and treats her people like garbage. I didn't understand why Gideon is staying true to her until the ending. Harrowhark is the last member of the royal family, yet she takes Gideon with her with absolutely no clue what to do, how to act as a security chief, or even a bodyguard. Each "house" lives on their own planet, we don't know which solar system, but I assumed it was our solar system from little clues in the writing (which I could have easily misunderstood).
I liked that Gideon is using big swords, they're cool and effective and make sense for a weapon of swordswoman. Big, long swords are an offensive weapon, I understand that the short, slender swords are easier to wield, but they are mostly for unarmed single combat, at best, or just for show. I'm glad that the author understood that.
I loved the names, meaningful and help the reader know who the author is talking about without memorizing a large cast of characters, reminded of several books by Neil Gaiman who uses these types of meaningful names. The author can write women, and a great narrative, but the men in this book are all jerks, asses, and cowards. I understand this is supposed to be a women centric novel, but there is no reason to make the men weak, in order to make the women strong.
This book is very unique, I enjoyed the dark humor, even though it took the book a bit to get going the story flowed smoothly. The world the author builds is dense and complex, which means the reader needs a little patience for the world building – but it's worth the wait.
Synopsis:
Gideon, an orphan, was brought up by a bunch of brutal nuns in what we would call a cult. We meet Gideon when she's planning an escape but is topped by Harrowhark, her childhood bully, who is now ruler of the Ninth House and the best bone witch in the galaxy.
As it turned out Harrowhark has been invited by The Emperor to a tournament, the prize is immortality, becoming an all-powerful servant of the Resurrection. Each necromancer must bring their own cavalier to fight with / for them.
Gideon is an indentured servant (that's what she's called, but she's actually a slave) to the Ninth house (nine out of nine houses). Being trained as a swordswoman her whole life, Gideon Nav who is forced to team up with her necromancer, Harrowhark Nonagesimus, Reverend Daughter of the Ninth House, that wants to become a god's bodyguard and also save the Ninth House from extinction.
Buy Gideon the Ninth from Amazon.com*
More Books by Tamsyn Muir*
Zohar — Man of la Book
Dis­claimer: I bought this book.
*Ama­zon links point to an affiliate account
--- Please like and follow ManOfLaBook.com ---