About:
Gentlemen of the Road: A Tale of Adventure
by Michael Chabon is
a fictional
tale, author Michael Chabon tells the tale of
two wandering Jews
, con-men and bandits who jestingly call themselves "Gentlemen of the Road".
204 pages
Publisher: Del Rey
Language: English
ISBN-10: 0345501748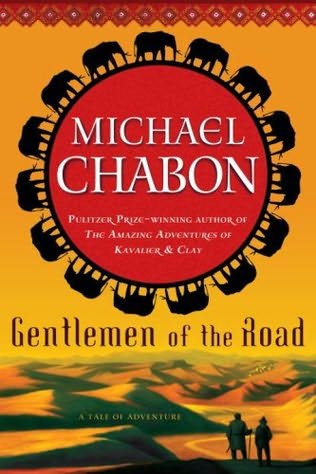 Thoughts:
Gentlemen of the Road: A Tale of Adventure by Michael Chabon  (web­site | Face­book)  is a story of adventures which takes an odd pair of men taking place sometime in the 10th Century when the two partners are collecting the money from a con they just pulled (a fake fight between the meek Frank with his needle and the huge ax wielding ex-solider) when they encounter a young man who claims to be the heir to the throne of the Jewish kingdom of Khazria, usurped by his brutal uncle.
This is a wonderful serial novel, in the best tradition of Alexander Dumas and the old time pulp written in a stylized language which I loved and sprinkled with obscure words, archaic references and a solid sense of humor.
How can you not love a book which has the following passage:
"Zelikman executed the difficult maneuver of mounting a horse at full gallop. To outside observes, of this desolate slope, very few, he must have looked as if he were trying to mount Hillel's saddle so much as to perform some foul outrage upon his neck."
All of it which adds to the charm of this wonderful, albeit short novel with lots of twists and cliff hangers aplenty.
Gentlemen of the Road is a book of swashbuckling adventure is meant to be read and enjoyed – it does not delve into the depths of human psyche and is not weighed down by dramatic themes – it is just a pleasure to sit back and let your imagination loose as you go on an exotic quest of impossible odds with the "Gentlemen".
Synopsis:
The story follows the adventures of two men bound together
Zelikman – a white, thin and blond surgeon who carries a thin, sharp ,oversized bloodletting instrument as a sword, using his academic knowledge to his enemies misfortune and who is traumatized from watching his family slaughtered during the pogrom.
Amaram – a black, muscular ex-solider who wields an ax named "Defiler of Your Mother", who is still searching for his daughter that disappeared without giving up hope.
Buy this book in paper or elec­tronic format*
More Books by Michael Chabon*
Zohar – Man of La Book
Disclaimer: I borrowed this book from the local library.
*Ama­zon links point to an affil­i­ate account
BOOK BLOGGERS – Have you read Gentlemen of the Road? If so link up your review below:
--- Please like and follow ManOfLaBook.com ---