I got this eBook for free.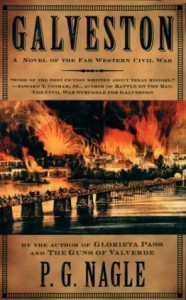 My Rating for Galveston: 4
About:
"Galveston  (Civil War in the Far West)" by P. G. Nagle is a historical fiction account of events in Texas and New Mexico during the American Civil War.  The story culminates in the battle for Galveston, a Texan barrier island.
Civil War buffs? Buy the book here.
Thoughts:
Let me preface by saying that Galveston is part three or a series and I have not read parts one or two.
"Galveston" by P. G. Nagle was an easy read and a fascinating one as well.  The outdoor descriptions of New Mexico and Texas are very good and help transport you to the 1860s.  I was mesmerized by the descriptions of the battle (there is only one) and the tactics used at the time.  Ms. Nagle also took the time to put us into the minds of civilians being caught in the midst of the war – an aspect which should not be overlooked.
The book flows smoothly, is entertaining and well written.  However, the characters aren't complex, but that could be due to the fact that I have not read the previous two books. I did like the story and learning about little known part of the Civil War (or any war) is always captivating.
Ms. Nagle's writing, as well as constantly changing from the narration of one character to another, keeps the story moving along at a reasonable pace.
Synopsis:
Confederate Solider James Russell returns home from the rough battle at Valverde.  He finds himself accompanying his sister, Emma, to their aunt's home in Galveston, Texas.  Emma is bitter and in low spirits because she lost her fiancé in the war, her family thinks that leaving the farm will do her some good.
Far from being safe, the island of Galveston is being attacked by the Union Army.  While Jamie takes part in the battle, Emma takes care of their aunt and does her part as a volunteer nurse
Union naval officer Quincy supplies the contrasting view from the Union side.
You know who would LOVE this book? Your dad for the holidays – Buy it now before it's too late
Zohar – Man of la Book
Related articles
--- Please like and follow ManOfLaBook.com ---