About:
Forgiving Maximo Rothman by A. J. Sidransky is a fictional book taking place in Washington Heights, NY. I never knew much about the Jews who fled to the Dominican Republic and it was a very interested and curious read.
316 pages
Publisher: Berwick Court Publishing
Language: English
ISBN-10: 0988954001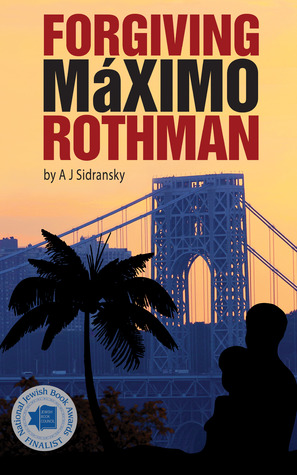 My rat­ing for Forgiving Maximo Rothman — 5
Buy this book in paper or elec­tronic format*
Thoughts:
Forgiving Maximo Rothman by A. J. Sidransky is a fascinating and entertaining read which mixes World War II Jewish refugees in the Dominican Republic, Dominican culture in the US and Russian immigrants trying to assimilate in the US.
Mr. Sidransky writes very well, the characters' development is very good as well as the supporting characters and the relationships between them. The author also establishes, concisely and clearly, the relationship of his main characters with their family and friends.
There are many uses of both Spanish and Yiddish, as well as some Russian phrases, in the novel. I liked that aspect very much since I didn't feel like the author underestimated the intelligence of his readers. Even if you don't understand those languages, the author either explains what the words mean or the reader can make an educated guess via the context (or, of course, Google).
This is one of those rare books which are intelligent, informative and entreating. Mr. Sidransky is an excellent author and I'm looking forward to reading more of his work.
Synopsis:
Detective Anatoly Kurchenko is trying to solve the murder of 90 year old Max Rothman. Max is an atheist holocaust survivor whose son became a Hassidic Jew. While father and son don't get along, Max was very close with his grandson who is mentaly diabled.
During his investigation, Detective Kurchenko comes upon Rothman's diaries which he reads hoping it will give him some leads. As it turned out, Rothman lived a fascinating life after managing to escape Europe in 1939, ending up as a refugee in the Dominican Republic along with his wife.
Buy this book in paper or elec­tronic format*
Zohar — Man of la Book
Dis­claimer: I got this book for free.
*Ama­zon links point to an affil­i­ate account
--- Please like and follow ManOfLaBook.com ---