About:
Exit Strategy by Martha Wells tells of the humanization of Murderbot, a weaponized cyborg that became self-aware, one stop forward by making him… care. Ms. Wells is an award winning writer, whose works include many fantasy, science-fiction, and non-fiction books.
176 pages
Publisher: Tor.com
Language: English
ISBN-10: 9781250191854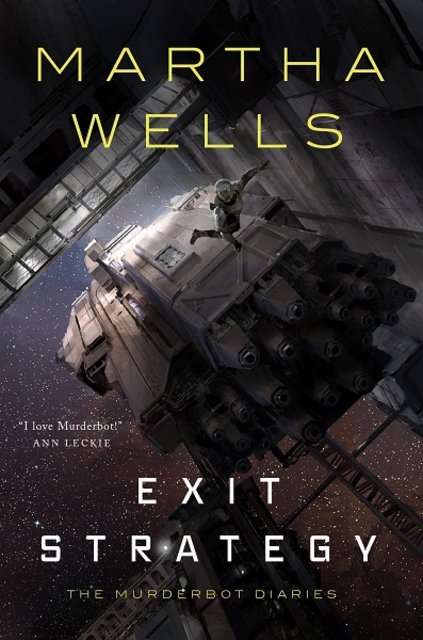 My rat­ing for Exit Strategy— 5
Buy Exit Strategy from Amazon.com*
More Books by Martha Wells*
Thoughts:
I read all four novellas of The Murderbot Diaries in a row, which made it a cohesive storyline, with familiar characters and one can certainly see the arc which Murderbot takes. I must say that reading it that way was very enjoyable. I am looking forward to reading the fifth installment soon.
In Exit Strategy (Book 4 of 4 in the Murderbot Diaries Series) by Martha Wells,  Murderbot reunites with the people from the first novella, All System Red, as well as some of the enemies. Being built and trained to fight, Murderbot is very afraid of Dr. Mensah, his legal owner because she can understand him. Still, Murderbot is very reluctant to let his guard down and accept her friendship.
You don't need to be a robot to understand that.
In his usual sarcastic fashion, which we came to love and always enjoy, Murderbot keeps criticizing the stupidity of human behavior. Ironically, it finds itself bending over backwards to help those he know against the evil corporation, GrayCris.
Murderbot is still addicted to his space soap operas, together with Dr. Mensah we find out what he finds so alluring in those shows. I think it's hilarious that, as a cyborg, time moves differently for him and every chance he gets, even in life or death situations, he taps his feed to watch / read / listen to his favorite media. It's almost like having a killer cyborg teenager around, with almost no ability to concentrate on what's in front of them.
This novella concludes the Murderbot series. I read all four novellas one after the other and I highly recommend doing so. It's a fun series, well written, and I enjoyed how the author played with the close-to-human part and then pull back
About:
Murderbot returns from Milu, a deserted terraforming facility, after collecting additional evidence against the evil corporation GrayCris. Because he has key evidence against the corporation, Murderbot decides to meet with his "owner", Dr. Mensah.
Or is Dr. Mensah actually his friend? Murderbot can't decide.
Unfortunatlly for our sarcastic hero, the authorities at the HaveRatton Station have been alerted that a rogue Security Unit (SecUnit) has been detected and are intent on either capturing or killing him. If that's not enough, Dr. Mensah is in serious trouble.
Buy Exit Strategy from Amazon.com*
More Books by Martha Wells*
Zohar — Man of la Book
Dis­claimer: I got this book from the Tor.com eBook Club.
*Ama­zon links point to an affiliate account
--- Please like and follow ManOfLaBook.com ---