About:
Death of Kings by Bernard Cornwell is the sixth novel in this historical-fiction series featuring Uhtred of Bebbanburg. The series is called The Saxon Chronicles and tells about eh unification of Anglo Saxon England as well as the expulsion of the Danes from Britain.
336 pages
Publisher: Harper Paperbacks
Language: English
ISBN-10: 0061969664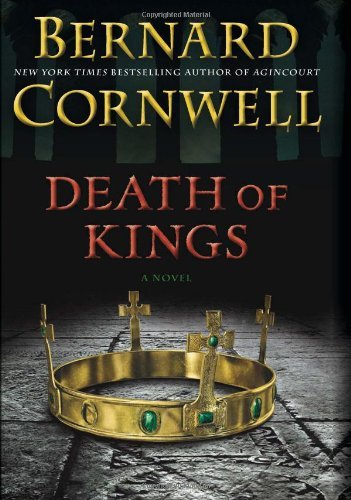 My rat­ing for Death of Kings — 4
Buy this book from in paper or elec­tronic format*
More Books by Bernard Cornwell 
 Thoughts:
I have not read any of the previous books in the series or any books by the author, however I did enjoy Death of Kings by Bernard Cornwell. I enjoyed the historical detail of the story as well as the depth of characters which the author presented.
Mr. Cornwell chose a wonderful time in history to write about, much hangs in the balance and the story is told in a fast pace, describing larger than life events. The novel weaves action, political intrigue and religious schemes throughout.
I enjoyed reading about the main character, Uhtred of Bebbanburg. Uhtred is not a nice man, he is tough, a great warrior and excellent leader. Uhtred is not an action hero, he is a general who still gets scared when facing the enemy, but stands at the front of his troops fighting among them while conducting the battle even though he is sure they are all going to die.
A few parts of the novel were a bit difficult to get through, and at the beginning the strange names took a bit of effort to get used to, however once those obstacles were (easily) conquered the novel became fascinating and engrossing. For lovers of English history, historical-fiction or ancient battles, this book is for you.
Synopsis:
It's 899 and Alfred the Great is dying, he summons Uhtred of Bebbanburg, his best warrior who is under constant death threats and financial difficulties. Uhtred does not disappoint the king and swears allegiance to his son Edward so he could help him defend the kingdom from the Danes, in return of a rich estate.
Edward however, trusts his priests more than his warriors and Uhtred, a pagan in a land of Christians, is not being trusted by the new king.
Buy this book from in paper or elec­tronic format*
More Books by Bernard Cornwell 
Zohar — Man of la Book
Dis­claimer: I bought this book.
*Ama­zon links point to an affil­i­ate account
--- Please like and follow ManOfLaBook.com ---