I borrowed this book.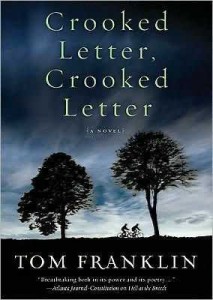 My rating for Crooked Letter, Crooked Letter – 4
About:
"Crooked Letter, Crooked Letter" by Tom Franklin is a fictional story set in the late 70's in rural Mississippi. The title comes from the way children in Mississippi are taught how to spell their state's name (. M, I, crooked-letter, crooked-letter, I, crooked-letter, crooked-letter, I, humpback, humback, I). The book is atmospheric and deals with the harsh punishment society deals to those they deem guilty (without proof) as well as racial elements.
Get a discount on "Crooked Letter, Crooked Letter"
through the ManOfLaBook affiliate account on:
Amazon |Book Depository US | Book Depository UK
Thoughts:
"Crooked Letter, Crooked Letter" by Tom Franklin is a sad and poignant story that has many elements and several focuses. The profound themes of friendship, bonding, racism, cruelty and community shunning are at the forefront of this well written novel.
The story is evocative but slow and centers on the relationship between two men (on a friendship level). The crime story is simply a background in which the themes of the book can show themselves. Mr. Franklin's storytelling is wonderful and the novel resonates using believable characters and excellent dialog.
I would not categorize this novel as a mystery as the narrative moves back and forth in time with few characters and it's obvious who the guilty party is. The book is more of a psychological examination and an intriguing study of the male psyche.
The strong characters are what make the book. The relationship between the characters is what keeps the book interesting more than the not-so-intricate plot.
The one thing that I didn't like is how far the author goes to make the character of Larry Ott seems strange without clueing the reader into his intelligence. Larry is an avid reader of horror books and could basically learn anything except human interaction, he is an interesting character and I wished he would have been explored a bit more.
Synopsis:
Larry Ott is the child of lower middle class parents, his childhood friend Silas "32" Jones is the son of a poor single black mother. For a few months the boys share a special bond until Silas, the jock, turns away from Larry, the school's weird kid who is into horror books. On his first date Larry takes a girl to a drive-in movie and she's never seen again.
The girl was never found, Larry never confessed and the case remained opened.
Twenty years later Larry has taken over his father's garage but not a single person in town is his customer. He lives a solitary existence filled with whispers behind his back and suspicion to his face. Silas has become the town's cop and is forced to cross paths with Larry once again.
Get a discount on "Crooked Letter, Crooked Letter"
through the ManOfLaBook affiliate account on:
Amazon |Book Depository US | Book Depository UK
Zohar – Man of la Book
--- Please like and follow ManOfLaBook.com ---