About:
Death March Escape: The Remarkable Story of a Man Who Twice Escaped the Nazi Holocaust by Jack J Hersch is a biography of Dave Hersch, the author's father. This is Mr. Hersch's first non-fiction book.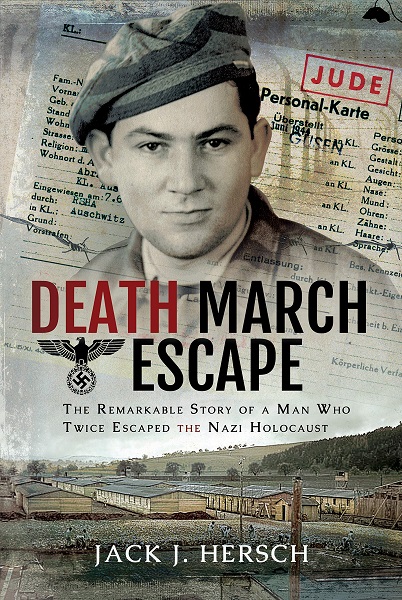 My rating for Death March Escape – 5
Buy Death March Escape from Amazon.com*
More Books by Jack J Hersch*
Thoughts:
After his father passed away, the author realized what many other children of Holocaust survivors found out – they didn't ask enough questions, or pried for more information. Frankly, it's not his fault the during the book he kicks himself for it, from personal experience though I found out the Holocaust survivors are not eager to talk about their experiences, and from some reason their children don't want to know (the grandchildren, however, do).
In Death March Escape: The Remarkable Story of a Man Who Twice Escaped the Nazi Holocaust by Jack J Hersch the author retraces his father's footsteps in Europe. Dave Hersch is the only person known to have escaped and survived two death marches.
Mr. Hersch's story is certainly an amazing one, and certainly deserved its own book (as do many other survivors, and I'm sure many who didn't survive as well).  I fail to comprehend how Dave Hersch survived a year in Mauthausen Concentration Camp, a place which was built specifically as a slave / murder machine.
Dave Hersch told his story of escape to his children every Passover, a holiday celebrating an exodus and survival. As the author found out, his memory sometimes betrayed him and he might have chosen only to tell specific parts – but at least his story was told, passed on to his children and now is here for posterity.
One of the passages that stuck with me was that Dave Hersch told the author that before going to Mauthausen, he was an Auschwitz for 2-3 weeks. When the author investigated further he found that it was actually 2-3 days. How horrible must be a place like that, where every hour seems like a day?
The chapters navigate between telling the experience of Dave Hersch, a short section telling the reader about the war (focusing on Patton's 3rd Army which liberated Mauthausen), and a chapter of the author's search, as well as his reflections on what he found out. A remarkable survival story, with a deep, personal narration.
Buy Death March Escape from Amazon.com*
More Books by Jack J Hersch*
Zohar — Man of la Book
Dis­claimer: I got this book for free.
*Ama­zon links point to an affil­i­ate account
--- Please like and follow ManOfLaBook.com ---
Summary
Reviewer
Review Date
Reviewed Item
Death March Escape: The Remarkable Story of a Man Who Twice Escaped the Nazi Holocaust by Jack J Hersch
Author Rating





Product Name
Death March Escape: The Remarkable Story of a Man Who Twice Escaped the Nazi Holocaust by Jack J Hersch