About:
Brenner and God by Wolf Haas is a detective novel taking place in Germany.Mr. Haas, a popular author in Germany, has recently had his first translated work published.
224 pages
Publisher: Melville International Crime;
Language: English
ISBN-10: 1612191134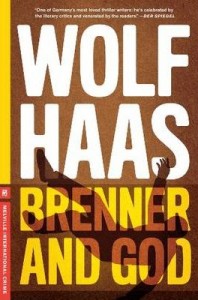 My rating for Brenner and God – 3
Buy this book in paper or electronic format
Thoughts:
Brenner and God by Wolf Haas is an entertaining, yet wildly strange novel. The book is narrated by an unnamed person who has a wicked, dark and wry sense of humor – much like my own which is why I thought I'd enjoy the book more.
The style of the novel is unwieldy and I never got used to it. I don't know whether the style is that way because it's meant to be that way or simply lost in translation – meaning the translation is fine, but the style simply doesn't conform to the English reader. The narrator says things like "listen carefully", "take note" etc. and reminds himself things retrospectively.
The main character of Brenner walks around the novel, basically it seems just to allow the narrator to make funny remarks. Those remarks are funny, I'll grant that, but without the narrator's observations, points and jokes, the novel is basically 4-5 chapters long.
"As a matter of principle, Frau Doctor Kressdorf had great sympathy for the men who came in for vasectomies. Because men tend to leave everything else up to women, the vasectomy candidates were practically minor saints to her."
I enjoyed this novel in parts, it is dark and with a sinister story and sense of humor. However, the shtick of the all knowing, opinionated narrator didn't work for me throughout.  I did love the sarcastic humor but then again, I am a known wiseass.
So tell me, do you enjoy books with a dark sense of humor?
Synopsis:
Simon Brenner retires from his stressful job as a police officer to take the job of a chauffer. Brenner's main duty is to drive a two year old girl between her mother, an abortion doctor in Vienna, and her father, a construction millionaire in Berlin.
One day, stopping to fill up the gas tank, Brenner finds the that the little tike disappeared. With the mother's occupation and the father's long list of enemies, Brenner (who is of course one of the prime suspects) does not have shortage of leads or dead bodies standing in his way.
Buy this book in paper or electronic format
Zohar – Man of la Book
Disclaimer: I got this book for free
BOOK BLOGGERS – Have you read Brenner and God? If so link up your review below:
--- Please like and follow ManOfLaBook.com ---