About:
Asylum City by Liad Shoham is an Israeli crime novel. This is Mr. Shoham's second novel which has been translated to English, however he wrote at least six novels which I'm aware of.
336 pages
Publisher: Harper
Language: English
ISBN-10: 0062237535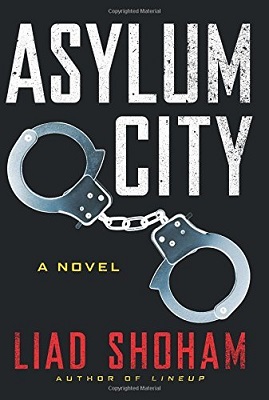 My rat­ing for Asylum City— 5
Buy this book in paper or elec­tronic format*
Thoughts:
Asylum City by Liad Shoham is the second novel by the Israeli author I have read, the first was Lineup which I enjoyed very much, this novel is enjoyable as well. The author's examinations of Israeli society and sub-cultures are interesting and his characters are well drawn and likeable.
The novel's protagonist, police inspector Anat Nachmias, is a formidable character. Even though she's small in stature and rank, Anat is smart, capable and able to navigate to ultra-macho culture of Israeli police.
The author casts a wide net across Israeli society when it comes to solving the murder Anat is working on. Anat is a strong protagonist who loves her job and has to deal with rampant sexism of her co-workers and her superiors who have half her intelligence.
Like other countries, Israel has to deal with illegal immigration and the author shows both its ugly and beautiful side. There are immigrants and Israelis who take advantage of the poor and displaced, as well as others who really go out of their way to help. The author takes advantage of the mystery to introduce the reader to these sub-cultures, criminal and philanthropic elements in a very unique way.
Last but not least, great job by translator Sara Kitai who managed to capture the mood of the novel, not just the words.
Synopsis:
Michal Poleg, a social activist with a tendency to anger all the wrong people, is found murdered in her Tel-Aviv apartment. Office Anat Nacmias is the lead investigator on, what's on the surface, seems like an open-and-shut case.
When a young illegal immigrant from Ethiopia confesses to the crime, everyone is happy that this high profile case is solved quickly, but Anat refuses to believe that it's that easy. As she investigates the crime, Anat is pulled into an underground criminal element filled with loan sharks, idealists, cynics and criminal syndicates.
Buy this book in paper or elec­tronic format*
Zohar — Man of la Book
Dis­claimer: I got this book for free.
*Ama­zon links point to an affil­i­ate account
--- Please like and follow ManOfLaBook.com ---