About:
Artificial Condition (The Murderbot Diaries #2) by Martha Wells follows the progression of a cyborg security unit that has become self-aware and is trying to navigate the complexities of humans, which often borders on stupidity. Ms. Wells is an award winning writer, whose works include many fantasy, science-fiction, and non-fiction books.
160 pages
Publisher: Tor.com
Language: English
ISBN-10: 1250186927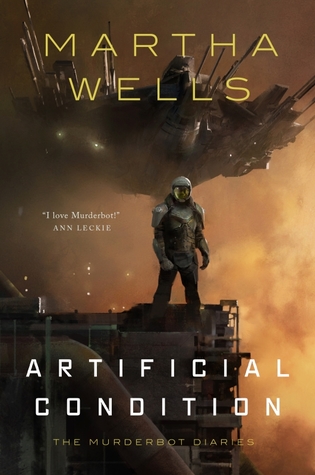 My rat­ing for Artificial Condition — 5
Buy Artificial Condition from Amazon.com*
More Books by Martha Wells*
Thoughts:
I enjoyed this book very much, just as much if not more than the first. This is despite that half of Artificial Condition (Book 2 of 4 in the Murderbot Diaries Series) by Martha Wells revolves around two bots in an empty transport ship.
The technological aspects that the author writers about are very creative, and one can see that she put in a lot of thought into them. The bot that powers the transport ship, ART, is a lot more powerful than what the protagonist, Murderbot, thinks it is and I think that reflects current technology where we are just starting to figure out all the bots that we interact with (personal assistants, search engines, navigation devices) are very powerful indeed. They might not have be a self-conscious, depressed bot or one that enjoys TV shows, but they do, and know, a lot more than we give them credit for.
Murderbot is trying to decoded humans for much of the book, he has to learn how to read facial expressions and little movements. Worst, he has to learn how to make facial expressions and little movements. Those observations, for me, were very interesting, funny, and most of the time spot on.
In this book, Murderbot learns a lot more about himself and his past life, before his memory was erased. He still has glimpses of his past due to his biological features that technology cannot erase. As with the first book, the adventure story is just a background for, Murderbot to investigate possible connections between past incidents and the one that he is investigating.
Reading how Murderbot starting to appreciate that he has the freedom to make choices, help others when needed was, for me, the central theme of this book.  As in the first novella, the dry humor and poignant observations really elevated the storyline.
Synopsis:
Murderbot, a SecUnit that has become self-aware by hacking itself, has found a ride to on a Research Transport vessel named ART to the mining facility where it first went rogue.
In order to have a pre-text to go to the scene of the alleged murders it aligns itself with some workers who, naively, believe that a corporation will return their stolen data for the peanuts they paid them in signing bonuses.
Buy Artificial Condition from Amazon.com*
More Books by Martha Wells*
Zohar — Man of la Book
Dis­claimer: I got this book from the Tor.com eBook Club.
*Ama­zon links point to an affiliate account
--- Please like and follow ManOfLaBook.com ---