About:
And the Mountains Echoed by Khaled Hosseini is the long awaited novel by this bestselling author. Mr. Hoseini's previous novels, The Kite Runner and A Thousand Splendid Suns, sold more than 38 million books.
416 pages
Publisher: Riverhead
Sold by: Penguin Publishing
Language: English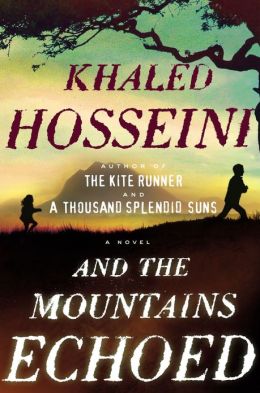 My rat­ing for And the Mountains Echoed — 4
Buy this book in paper or electronic format*
Thoughts:
I was glad to receive a copy of And the Mountains Echoed by Khaled Hosseini (website | Facebook) from the publisher as I enjoyed both his previous books. When I started reading the book two things became immediately clear – this was not going to be another heart wrenching novel and that this is going to be an ambitious story.
This is a character driven novel, the story takes place all over the world over decades, but it's the characters that make you want to come back for the next story. One the reader gets through about half the book, the reader can put together the individual pieces which make the work a whole.
What I enjoyed in the narrative were the subtleties which Mr. Hosseini weaves into his work. Reading the stories carefully, one could revisit the events from another point of view of another character, sometime many pages later.
The book's pace slows down in the middle and the storytelling gets a bit confusing if one doesn't pay close attention. The stories changes narrative mode which I found to be a bit distracting, for example the last two sections are told in first person while the rest of the book is told by an omnipotent narrator.
After finishing the book I was impressed by Mr. Hosseini literary bravery. After writing two successful novels, he could have easily rested on his laurels writing story after story which his audience, myself included, expected but instead wrote something completely different.
Synopsis:
A poor Afghan laborer hands over his precious 3-year-old daughter to a wealthy couple living in Kabul. While Pari quickly forgets where she came from, her brother Abdullah who is very attached to her never does.
The consequences of the siblings' separation are told through a series of overlapping stories from different perspective which span a lifetime.
Buy this book in paper or electronic format*
Zohar — Man of la Book
Dis­claimer: I got this book for free.
*Ama­zon links point to an affil­i­ate account
--- Please like and follow ManOfLaBook.com ---