I got this book for free.
To participate in the Gratitude Giveaway to win a free copy at the bottom of the page.

My rating for The Secret Lives of Baba Segi's Wives – 4
About:
"The Secret Lives of Baba Segi's Wives" by Lola Shoneyin is a fictional story set in modern day Nigeria and centers around the house of a polygamist.   The novel examines the complex relationships between the wives, their children and a new wife who is brought into the house.
Think one wife is enough? Buy the book and find out.
Thoughts:
"The Secret Lives of Baba Segi's Wives" is a sometimes sad, sometimes funny book.  The novel examines the compound relationships of a polygamous family, the jealousies, infighting, self deception and conniving.
I know very little about Nigeria; however Ms. Shoney made the country very familiar, as well as the people, so I felt at ease reading the book.  Since the story is told by multiple people the reader is privy to their emotions, ambitions and world view which makes the characters fully developed and dimensional in a surprisingly short amount of pages.   Weaving through each separate narrative, the reader learns of the events which brought this family together as well as an eye for the present.
As the story unfolds, we are drawn into the world of Baba Segi and his family.  Lola Shoeyin's writing is clear and evokes emotions as well as believable reactions from the characters.  Even though the book takes place in Nigeria, it does have universal theme of actions and reactions within a close knit fiefdom of one man's home.
Synopsis:
Bolanle Alao is the young beautiful wife of Bab Segi; she is educated, naive and… his fourth wife. Upsetting the delicate balance of power in the dynamic relationship, Bloanle is noticing that she is being pushed out by the  wives, while at the same time being pushed by her husband to have a child.
Polygamy was never the first choice for any of the wives, and Bolanle is no different.  However, circumstances have a way to make your decision for you.
When Bab Segi's two greedy wives devise a Machiavellian plot to make sure Bolanle is out of the way, a disastrous results awaits them which will not only upset the balance of power, but might destroy the whole family.  In this polygamists household secrets are the norm, each woman guards her secret against all others in the household, however shares them with the reader through out the story.
Did the scheming wives win? Buy the book and find out for yourself.
Zohar – Man of laBook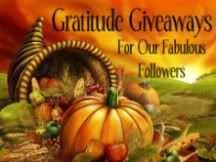 Enter As Many Gratitude Giveaways As Possible

Rules:

Contest is for one (1) slightly used copy of the book
Must be a US mailing Address
Ends Sunday November 28, 2010
Please leave a comment below letting me know that you got here through the Gratitude

Congratulations to @galvezbookgirl

Related articles:
--- Please like and follow ManOfLaBook.com ---