About:
An African Affair by Nina Darnton is a fictional book taking place in Nigeria. Ms Darnton is a seasoned reporter who found herself in a Nigerian jail after her husband, a New York Times reporter, filed some uncomplimentary stories about the ruling regime.
272 pages
Publisher: Viking Adult
Language: English
ISBN-10: 0670022888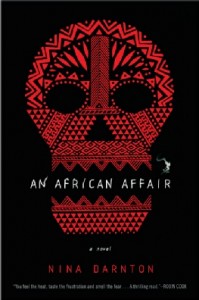 My rating for An African Affair – 3
Buy this book in paper or electronic format
Thoughts:
An African Affair by Nina Darnton (Facebook | Huffington Post) might make a stirring memoir and is a descent political thriller. I truly enjoyed how Ms. Darnton captured Nigerian culture and corruption which is accompanied with vast internal tribal interests as well as vast outside ones such as oil and drugs.
I have been in several places where blatant bribery is not only accepted, but expected (I'm looking at you South American border guards) and as shocked as I was the first time, I realize that not many places are that different. But please consider that I spent most of my life in New Jersey where bribery is legal.
The writing style is clear, fast and easy to read. Ms. Darnton does an excellent job grabbing the reader's attention and not letting go. The characters are interesting and well written but I find them too black and white for my taste. After all, the people who work in clandestine operations and behind the scenes are known for their "grayness" and ability to blend in – not to stand out. There are many female characters, none of which I found very interesting besides the narrator/protagonist.
As I mentioned, I liked the description of the culture, but something was missing for me. I read many books and novels about Africa; from some reason the continent fascinates me. However, this time I didn't learn anything new, nor did I get the feeling of the city/country/continent as being a character in the book. Yes the descriptions are there, but there are hot, sticky, smelly places even in these United States and I wager to say in every country in the world (including Monte Carlo). The novel could have taken place in any medium sized border town during this extremely humid and dry summer.
It could be just me, but I didn't feel as if I was in Lagos.
Image from WorldAtlas.com
The twists and turns in the novel, while interesting, did not come as a surprise. In purpose or not they are projected well ahead and the observant reader would figure out what's going to happen well in advance.
The sense of time was lost on me in this novel as well. I have no idea about the timeline of the book (unless I'm going to read it again and pay closer attention), but I do know that weeks, if not months go by with barely a mention.
Overall though, the book was certainly and entertaining and worthwhile read. Even though there are politics involved, it is not difficult to follow or understand and one doesn't need any prior knowledge of Nigerian history or culture to enjoy the novel.
The book ended with a question mark, it seems that the author was planning on a series starring the protagonist and her CIA contact.
We shall see.
So tell me, what is the best book about Africa you liked?
Synopsis:
Lindsay Cameron is an American journalist for the New York Globe posted in Lagos, the capitol of Nigeria. Lindsay covers the corrupt government of Michael Olumide which puts her in the radar of the regime.
Going to a party at the US embassy Lindsay starts investigating a murder which neither the regime or the embassy's CIA operatives want her to stick her nose in. at the same part she also meets with, and falls in love with, James who is an art dealer specializing in African art.
Buy this book in paper or electronic format
Zohar – Man of la Book
Disclaimer: I got this book for free
BOOK BLOGGERS – Have you read An African Affair? If so link up your review below:
--- Please like and follow ManOfLaBook.com ---