About:
A Blind Goddess by James R. Benn is the latest novel in the Billy Boyle series. The series follows the former Boston cop solving mysteries in war time Europe while giving the reader a great history lesson.
352 pages
Publisher: Soho Crime
Language: English
ISBN-10: 1616951923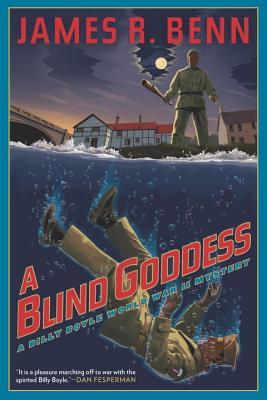 My rat­ing for A Blind Goddess— 4
Buy this book in  paper or elec­tronic format*
More Rec­om­mended World War II books on Man of la BookStore
Thoughts:
A Blind Goddess by James R. Benn (website) is an easy, fast read and one of Mr. Benn's best books of the series. The author has found his style and pacing, the narrative moves along quickly with attention to historical details which I loved.
I have read several books in the series before, and it's always nice to come back and visit with characters I liked from previous novels. The novel brings back the hesitant warrior Billy Boyle who is reprising his role as a Boston cop working for "Uncle Ike" (a distant relative), his Polish friend Kaz and others.
Billy's love interest, Diana Seaton, is actually one of the least interesting characters in this novel. She is trying to garner attention to the Nazi atrocities in the concentration camps while getting blocked at every turn from politicians who would like nothing else then Hitler solving the "Jewish problem" for them.
I'd certainly like to see another book where this issue takes a central role, but in this book it was a small side story and seems to be used for the sole purpose of giving Diana a role.
As with other Billy Boyle novels I loved the way Mr. Benn weaves in historical characters in his fictional narrative, Eisenhower has a small role, but bigger roles are played by John Masterman who was chairman of the Twenty Committee, known as XX or double cross because they controlled double agents in England. I read A Genius for Deception a few weeks ago so I had better background on the group. Captain Sobel from Band of Brothers, whose reputation was unjustly tarnished by TV show, also makes an appearance.
One of the books stronger storylines involves the racial tensions between white and black troops in England. Mr. Benn takes a small English village which is one of the staging grounds for troops who are about to invade France (we think) and sets the stage for the unfortunate confrontations which are a black eye in the face of American history.
This latest installment of the Billy Boyle series was a pleasure to read, the author kept me want to turn the pages (especially the last 1/3) without putting the book down. The realism which Mr. Benn offers about the time and the American military was, for me, the highlight of the book.
Related Reads:
Billy Boyle: A World War II Mys­tery
The First Wave
Synopsis:
Billy Boyle finds himself answering a personal request from his old friend Sergeant Eugene "Tree" Jackson who is now part of the all-African American 617th Tank Destroyers. Tree's gunner, "Angry Smith" has been arrested for murder and is headed for the gallows.
But newly minted Captain Boyle doesn't have time to investigate, British intelligence agent major Consgrove "asks" him to investigate a sensitive case of a murdered accountant in an English village. Billy takes on the case even though he doesn't know what it has to do with the US Army or why he is not allow to interrogate certain witnesses.
Buy this book in  paper or elec­tronic format*
More Rec­om­mended World War II books on Man of la BookStore
Zohar — Man of la Book
Dis­claimer: I got this book for free.
*Ama­zon links point to an affil­i­ate account
--- Please like and follow ManOfLaBook.com ---