I got this eBook for free.
The author has kindly made available to three (3) copy to be given out – Enter at the end of the post.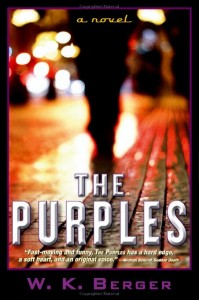 My rating for The Purples – 4
About:
"The Purples"(Book Website | Twitter | Facebook) by W.K. Berger (Website | Twitter | Facebook) tells is a (mostly) fictional story told through the eyes of real life Jewish mobster Joe Bernstein.  Joe is the head of the "Purple Gang" who ran booze across the Detroit River from Canada during the Prohibition era.
Get a discount on "The Purples" through the ManOfLaBook affiliate account on:
Amazon |Book Depository US | Book Depository UK
Thoughts:
"The Purples" by W.K. Berger is a very interesting novel about a very interesting time.  Detroit of the 1920's was a harsh place run by an anti-Semite named Henry Ford (yes, that Henry ford who also penned "The International Jew" and financially backed an up and coming Austrian madman who later used parts of Ford's book verbatim in his own diatribe called "Mein Kampf" ).
The novel is told through the eyes of Joe Bernstein, leader of the Jewish "Purple Gang" (so called because the members were said to be "tainted, like spoiled meat").   Joe tells of his climb to the top of Detroit's organized crime scene and his love affair with his girlfriend Rachel.  Surrounding himself with his brother's brains and talented hit-men Joe becomes rich until a one legged prosecutor named Riley comes to town.
Even though it was a bit difficult for me to get into the book, once I finally got into it the story became riveting.  Mr. Berger did his research and 1920's Detroit comes to life, while Joe tells us about his escapades, Henry Ford's tactics are not less "mob like". Joe is not a perfect narrator and after finishing the book I finally saw what the author was trying to convey, a hard man making a hard living while being isolated from those he loves.  The people that Joe were trying to protect, the Jewish community, were ashamed of him and his friends, their brutality and dishonesty.
The novel is finally crafted, fun to read and very entertaining yet still tells of a complex story.  However, I did not feel lost in the book; I knew exactly what was happening, where, how and by who.
Any author thinking about self publishing should take a look at "The Purples" of what a self published book should be.  It is a polished, well written, well edited book.  Even though the author uses some real events and dates in his story telling, "The Purples" is a work of fiction, however richly detailed.
Come back tomorrow when I interview author W.K. Berger about his experience with self publishing, social media and more.
Synopsis:
Afraid of the worker's unions in 1920's Detroit Henry Ford's agents, under the guise of fighting communism, arrest a multitude of people.  Rachel is one of those people only that Rachel's boyfriend is Jewish mobster Joe Bernstein.
Joe starts the "Purple Gang" and try to seize control of the Detroit River with his friends/enforcers and his feeble brother, Max, as the brains of the operation.  However, Rachel never recovered from her arrest ordeal, coupled with rising tensions within the gang, rival gangs and an incorruptible cop Joe has his work cut out for him.
Get a discount on "The Purples" through the ManOfLaBook affiliate account on:
Amazon |Book Depository US | Book Depository UK
Rules:

Contest is for one (1) new copy of "The Purples".

There will be THREE (3) WINNERS

Hard Copy winners must have a U.S. mailing Address

Ends Thursday February 3, 2011

Winners will be chosen using Random.org

Winners will have 24 hours after my initial contact to write back their mailing address, otherwise alternate winners will be picked
Congratulations

ayancey@
cassandravo@
Coffeeandabookchick@
Zohar – Man of la Book
Related articles
This post is in the 62nd

BOOK BLOGGERS – Have you read "The Purples"? If so link up your review below

--- Please like and follow ManOfLaBook.com ---