It has been two years since I started this blog. To be honest, I cannot believe it has been this long and that I actually kept up with it. Along with the many books I've read, I also met many friends and folks who are as enthusiastic about the written word as I am, and more.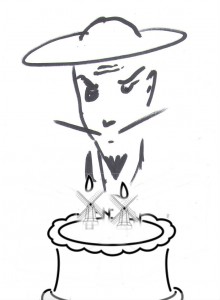 I've learned a few things a long the way as well. My biggest lesson this year was not to put all your eggs in one Google basket. What happened is absolutely my fault, I overstepped Google's terms of agreement and they, promptly and without warning, disabled my Google account. That caused me a whole bunch of headaches, not to mention lost emails, Author Q&A's, contacts, etc. But my ad sense account, Feedburner account, phone backup, Google reader, calendar and other services.
What I learned though is well worth the price. I rarely use Google anymore. I do for some services, and if I have more than two services per account I open a new one, but mostly I found other, as good or better service. For example, I use bloglines as my my RSS reader and I'm much happier with it.
I can already hear you: "Oh, poor you… tell us about the giveaway".
The prize – any book from Amazon.com $20 and under.
Entry – leave a comment below with your email and tell me how I can improve this blog.
The end date – TODAY!
Yes, it's a one day contest… so what are you waiting for?
Zohar – Man of la Book
--- Please like and follow ManOfLaBook.com ---