About:
Black Hawk Down: A Story of Modern War by Mark Bowden is a non-fiction book which follows the events of the battle which occurred in Mogadishu, Somalia on 3-4 October, 1993. The book drops the reader into the heart of Mogadishu and a glimpse into the lives of soldiers on the ground.
320 pages
Publisher: Atlantic Monthly Press
Language: English
ISBN-10: 0871137380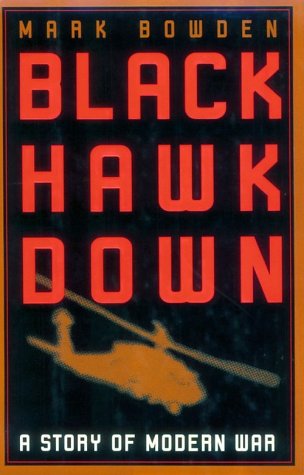 My rating for Black Hawk Down – 5
Great price on Black Hawk Down in paper* or elec­tronic* for­mat
through the Man of la Book Affil­i­ate Account
More books by Mark Bowden*
Thoughts:
Black Hawk Down: A Story of Modern War by Mark Bowden is a dramatic book, no fiction writer could make this up. If anyone have told me a couple of years ago he or she was going to write a book about the battle of Mogadishu, I would have laughed and wrote it off.
Boy, I would have been wrong.
This is a very engaging book, methodical, and caring. The author did an excellent job representing all sides of the conflict in an engaging manner. One could tell he did a tremendous amount of research, and most important, he did not relay on dry military reports, but interviewed all involved. This is also a fascinating look at the life of the soldiers, the conflicts between the different units, and represents the views of the commanders, ground troops, and pilots. The book allows the reader a glimpse into a hellish battle, urban warfare at its most brutal where all involved need to kill just in order to stay alive till dawn.
Mr. Bowden also goes into the mindset of the different units involved and the disconnect that comes with it. The way Delta Force was constantly outside of Army regulations, the way the Rangers held Delta in high regards, yet Delta looked at the Rangers as unorganized and arrogant. During the battle, the Rangers and Delta find themselves pin down and the differences in thinking, battle command and operations seem to be even bigger when lives are on the line.
Mr. Bowden did do justice to all involved, we need more books like this one – even handed and frank. Also, don't forget to read the notes at the end of the book for more insights.
This book reminded me of:
Citizen Soldiers by Stephen Ambrose
Synopsis:
On 3 October, 1993 soldiers from the United States Delta Force, Army Rangers, 160th Special Operations Aviation Regiment, 10th Mountain Division,UN forces, and Navy SEALs  attempted to capture Mohamed Farrah Aidid, a Somali warlord  in Mogadishu. An intense urban battle ensued which resulted between U.S. forces and local militia and citizens.
Instead of a snatch-and-grab mission, the forces found themselves trying to survive the night. Finally, when morning arrived and the units were rescued, 18 American soldiers  and 500 Somalis were dead with over 1,000 Somalis wounded.
Great price on Black Hawk Down in paper* or elec­tronic* for­mat
through the Man of la Book Affil­i­ate Account
More books by Mark Bowden*
Zohar – Man of la Book.
Disclaimer: I bought this book.
*Ama­zon links point to an affil­i­ate account
Related articles
BOOK BLOGGERS – Have you read Black Hawk Down? If so link up your review below:
--- Please like and follow ManOfLaBook.com ---