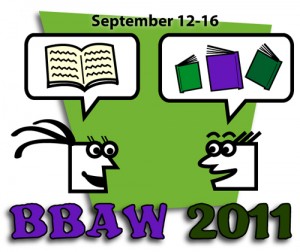 I'm going to tell you right off the bat that I'm going to cheat.
This weeks marks the 2011 Book Blogger Appreciation Week.
Yes, I have my favorite book bloggers and they know who they are. There are several which I follow religiously but mostly I simply enjoy looking at my RSS feed knowing that there are many other bookish people out there who like to share their experience reading.
I'm a firm believer that reading was, and could be again, a social activity. In days of yore people use to sit around the fireplace taking turns reading passages out loud and discussing them. Those days were gone but they're coming back.
Instead of a glowing fire (sounds romantic but imagine the dirt, cinder and smoke) we have glowing computer screens and we don't read out loud anymore but we certainly discuss the books. The beauty of it is that we can get opinions of people across the ocean and, based on our own depiction of reality, discuss how a certain book affected us in different ways.
Book blogging also takes a huge amount of time, several hours a day to maintain a consistent blog (lots of reading and writing). Whether I agree or disagree with my fellow book bloggers, whether I enjoyed the book they hated, or even if I wouldn't be caught dead with a book they loved I still appreciate the hard work that went into each and every post.
So here's to you – yes you, with the blog, eye fatigue and the early signs of carpal tunnel syndrome.
YOU made the world a better place one post at a time.
Zohar – Man of la Book
--- Please like and follow ManOfLaBook.com ---