Steven Say­lor (web­site | Face­book) is a well known historical fiction author whose books about ancient Rome are not only entertaining, but well researched and enlightening as well. His book Roma (my thoughts) was superb and I'm looking forward to read more.  I was very happy when Mr. Saylor agreed to answer a few questions for me.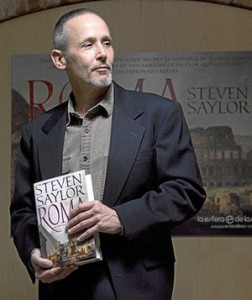 Q. Why did you set your books in ancient Rome?
A. I could give a long, intellectual reply, but I like brevity with which my fellow author Mary Willis Walker once answered a similar question, about why she wrote murder mysteries: the prurient interest! For mysteries set in ancient Rome, that goes triple, thanks to the juicy material the sources supply in such abundance. From the character-assassinating speeches of Cicero to the erotic poetry of Catullus to the genocidal warfare described by Caesar to the scandal-packed biographies of Suetonius, the source material is pure page-turning gold.
Q. Do you tailor your plot to the historical event or try to fit the event within the plot?
A. The story always arises from the source material, and I never jimmy the historical details to fit my own plot. But I do work freely within the gaps left by the historical record, which can be very large—there is so much we don't know for certain, even about the most well-recorded events. And I do sometimes make connections I have not seen made by historians or other novelists. For example, THE JUDGEMENT OF CAESAR pivots on the emotional triangle between Caesar, Cleopatra, and Cleo's little brother Ptolemy, which is right there in Caesar's own account, but which previous novelists seem to have overlooked. They were too blinded by Cleopatra, I suspect.
Q. In "Roma" you mixed history with legend. Do you feel that's a dangerous mix or that if a legend is told enough times it becomes history?
A. History is legend, legend is history. The ancient historians were essentially novelist, recounting hearsay, inventing speeches they could not possibly have heard or read, and in general trying to tell a great and meaningful story. Our primary source, Livy, freely intermingles legend and history in his account of Rome's origins, and modern historians tie themselves into knots when they attempt to separate "fact" from "fiction." In the earlier parts of ROMA, I certainly wanted to include legendary figures like the twins Romulus and Remus, and Hercules, who famously passed through the settlement and slew a monster, but I tried to give these stories a credible frame of reference. 
Q. Who is your favorite historical figure from ancient Rome to write about?
A. That's an impossible choice. In general, it's whomever I've currently researching and writing about at the moment.
Q.  Any positive/negative experiences in book promotions? What are the challenges of book promotions in the social media age?
A.I started publishing in the early 1990s, when publishers were flush and sent just about every author on book tours, sometimes with virtually no publicity support. So at the outset, as an unknown, I did experience the dreaded no-show once at bookstore, which is a pretty crushing…er, character-building…experience. But that has long since been counterbalanced by wonderful experiences like my book tours to Budapest, where I've had wonderful turn-outs and met many Hungarian readers. The best part of any speaking engagement for me is the Q&A, because I invariably get valuable feedback from readers, who follow the series carefully and point our patterns and opportunities I myself have not perceived, because I'm so close to the material. A reader once asked me, for instance, why I had created a perfect father-figure in the aging Gordianus, an observation which floored me, because until that moment I hadn't consciously realized I I was doing this; that gave me a fresh insight into my work and the motives behind it. The same is true for facebook, where readers have given me much more than I have given them, though they may not realize it.
Shame­less plug dis­guised as a wise ass ques­tion: Why do you love ManOfLaBook.com so much and often visit the web­site?
Wise Guy Answer: One of the greatest things about the Web is the opportunity is has given to people to pursue their passions in a creative way, without the old-fashioned gatekeepers of the publishing industry, etc. Your love of books is manifest at ManOfLaBook.com, and well worth sharing with all the people who visit the site.
"
History is legend, legend is history
"
–

you got to love it…
Zohar – Man of la Book

Related articles
--- Please like and follow ManOfLaBook.com ---
Summary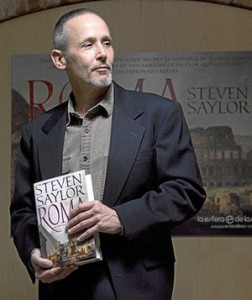 Article Name
Author Q&A with Steven Saylor
Description
Steven Say­lor is a well known historical fiction author whose books about ancient Rome are not only entertaining, but well researched and enlightening as well. His book Roma (my thoughts) was superb and I'm looking forward to read more
Author
Publisher Name
Man of la Book - A Bookish Blog
Publisher Logo