Elizabeth L. Sivler wrote one of this summer's hottest books The Execution of Noa P. Singleton and was kind enough to answer a few questions for me.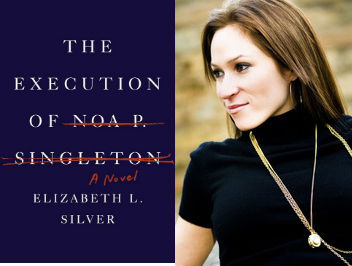 Q. How did for the idea for the novel came about?
A. In my last semester of law school, I enrolled in a class on capital punishment. As part of the course, I visited Texas's death row and worked on a clemency petition, where I spoke with inmates and victim family members. Then, for two years following law school, I was a judicial clerk for one of the nine judges on the Texas Court of Criminal Appeals and worked on several death penalty appeals. I researched the law and examined several cases from both an advocate as well as neutral perspective and wanted to present both sides of the death penalty debate by removing the obvious questions of whether or not the person did the crime, to instead focus on the question of punishment. How does society treat its prisoners? How do we accept our own shortcomings and mistakes? How does our guilt define us? These were just a handful of issues that I hoped to explore by examining the death penalty through the eyes of an admittedly guilty inmate and a mourning parent trying to forgive, ultimately blurring the lines between guilt and innocence, good and evil, and legal, ethical, psychological, and social notions of guilt.
Q. How did you handle the transition from a lawyer to author?
A. I never quite felt the transition because I had been pursuing a literary career long before I even went to law school and continued to write fiction and scripts even throughout. I might be that crazy person who went to law school as a back up in case writing didn't work out, but fell in love with criminal law in the process and was seduced by the theatrics of trials and the narrative of criminal procedure. Prior to law school, I pursued an MA in Creative Writing, taught English as a Second Language in Costa Rica, worked in book publishing, and taught English Language and Literature at Drexel and St. Joseph's Universities in Philadelphia. Only then did I switch directions to attend law school. After law school, I worked as an attorney for two years, allthewhile writing this novel at night, and took another year and a half off after the clerkship ended to focus on the book. Following that, I worked at a law firm for a year and now I'm writing full time. I've sort of never had a very consistent legal career, but it is one I did enjoy…briefly.
Q. Any positive/negative experiences in book promotions?
A. So far, it's been extraordinarily positive. I've loved hearing from readers who have been moved by the novel and enjoy getting to meet with and speak with them. A highlight for me was going to Book Expo in New York just a week before the novel hit the shelves. Everyone who worked on the book for the year came together at several events and it was a magical moment for me and for the book.
Q. What are the challenges of book promotions in the social media age?
A. I suspect there are massive hurdles out there, including the abundance of opinions and reviews, but this would be true even without social media. Social media is probably both a blessing and a curse, in that the word can disburse quickly and multiply with a simple tweet. On the other hand, you might not always like that word.
Shameless plug disguised as a wise ass question: Why do you love ManOfLaBook.com so much and often visit the website?
Wisegal Answer: I love this question. Given the fact that Don Quixote is one of my favorite books (and I also happen to love its musical adaptation, Man of La Mancha), I think you have a fabulous blog name. Keep up the great work and insightful reviews!
Thanks Ms. Silver for the great answers and keep on writing.
Zohar – Man of la Book
--- Please like and follow ManOfLaBook.com ---