About:
Tightwads on the Loose: A Seven Year Pacific Odyssey by Wendy Hinman is a memoir of the author, after she went on a boat trip around the world with her husband. Mrs. Hinman is a professional writer and, of course, a sailor and boating enthusiast.
386 pages

ISBN-10 : 0984835008

Publisher :

Salsa Press

Language: English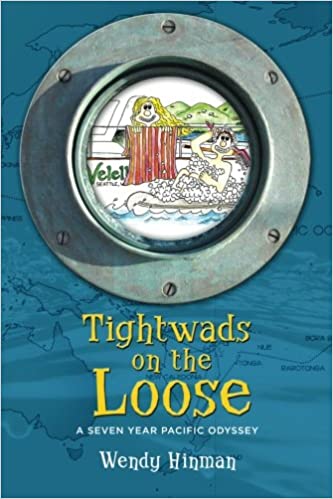 My rating for Tightwads on the Loose – 4
Buy Tightwads on the Loose from Amazon.com*
More Books by Wendy Hinman*
Thoughts:
Traveling around the world seems like a far-off dream to most people. For Wendy Hinman and her husband, Garth, this dream became reality when they set off on a one-in-a-lifetime (maybe) adventure which took around seven years to complete.
In Tightwads on the Loose: A Seven Year Pacific Odyssey, Mrs. Hinman chronicles the highs, and lows, of their trip around the world. While it does sound enticing, the Hinman's traveled on a very low budget, and as many people know, boats aren't a cheap vehicle to maintain. Luckily Mr. Hinman is boat engineer, and a very good mechanic.
The author does not shy away from writing about the hardships the couple has endured. From being on in close quarters for weeks at a time, corrupt officials, weather ruining plans (which seemed to be a running theme), and different ideas on what to do where. All that with the fact that the couple were on a very tight budget, as the title suggest, which makes every port fee a burden, and haggling for fresh food a must.
I have traveled much as well, besides the fact that in many places I was looked upon as a cash machine, with the Hinman's also discovered, the best part was about the people I met and experiences I  had – even though I know admit that I was too young to appreciate them. The people the couple met keep reappearing throughout the book, as it is in real life when traveling for even a few months. Boating, as mentioned over and over again, is an expensive hobby, and if something breaks it has to be fixed. For several months the Hinman's even had to work in an American military base in the Pacific to save enough money to fix their boat.
The writing captures life at sea, on a small boat, and worse. on a budget. The ports the couple stopped at are very lively and interesting. The author chose wisely to concentrate on people and experiences instead of trying to capture the magic of every waterfall they hiked to.
The audiobook, narrated by Robin Karno, was very engaging and enjoyable. Ms. Karno did an admirable job trying to bring to life not only the Hinman's but also the people they met along the way.
--- Please like and follow ManOfLaBook.com ---