About:
Grant by Ron Chernow is a biography of Ulysses S. Grant, the 18th President of the United States. Mr. Chernow is an award-winning published historian these days known for Hamilton, one of my personal favorite biographies.
48 hours and 2 minutes
Publisher : Penguin Audio
Language : English
ASIN : B074F3SLTL
Narrator : Mark Bramhall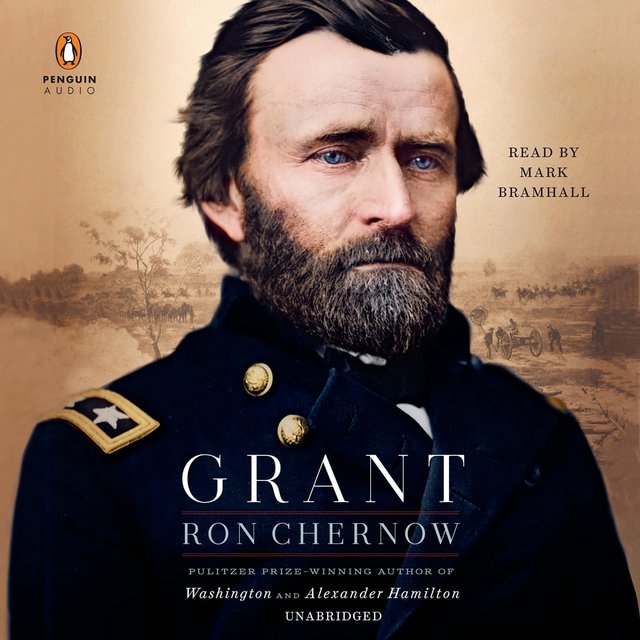 My rating for Grant – 5
Buy Grant from Amazon.com*
More books by Ron Chernow*
More books narrated by Mark Bramhall*
Thoughts:
Without a doubt, this phenomenal biography makes President Grant relevant again for a new generation.  Chernow wrote a readable, entertaining, as well as informative book that is a pleasure to read. Ulysses S. Grant comes across as a real person, not just a historical figure, with all the complexities one expects from such an accomplished general, statesman, husband, and father.
Mr. Chernow takes the time to dispel the many rumors, innuendos, and flat-out misinformation campaigns levied against Grant by those who successfully rewrote American history decades after their loss, such as the Daughters of the Confederacy and others. A bastardization of history so successful it made it into school textbooks and other works of historical significance.
Grant, while an alcoholic, wasn't a drunk. If anything, he recognized his weakness and stayed away from alcohol with the help of a close, but strong, support system of family, and staff. General Grant wasn't just a "brute force commander" with numbers on his side, even though that is unquestionably true. He was a brilliant strategist who could altogether realize the enemy's weaknesses and capitalize on them. The General was a fantastic administrator, commanding several armies, across a continent, from the field.
President Grant also was not a disaster. His main weakness, in politics as well as in business, was being an honest man, who assumed everyone was as honest as he was. He oversaw a vast expansion of the federal government and was respected and admired by both the United States and the former Confederate States for his efforts in reconstruction to heal the country. Not to mention, winning the American Civil War, crushing the KKK, and working with Mark Twain himself to publish his autobiography. Mr. Chernow doesn't shy away from Grant's mistakes either, his General Order No. 11 to expel the Jews, for instance, which he spent the rest of his life regretting, gets brought up often.
I enjoyed this audiobook tremendously; Mark Bramhall did a fantastic job narrating in a clear voice and unadulterated manner. This book deserves all the praise it has gotten, and much more.
Buy Grant from Amazon.com*
More books by Ron Chernow*
More books narrated by Mark Bramhall*
Zohar — Man of la Book
Dis­claimer: I bought this book through an Audible.com membership.
*Ama­zon links point to an affil­i­ate account, the money is usually spent on books
--- Please like and follow ManOfLaBook.com ---
Summary
Reviewer
Review Date
Reviewed Item
Author Rating





Product Name