About:
Black Ops: The Rise of Special Forces in the CIA, the SAS, and Mossad by Tony Geraghty goes through the history of those clandestine services, from a bird's eye view. Mr. Geraghty is a journalist and ex-English soldier.
10 hours and 35 minutes
Publisher : Audible Studios
Language : English
ASIN: B00FN5L46Q
Narrator : Mirron Willis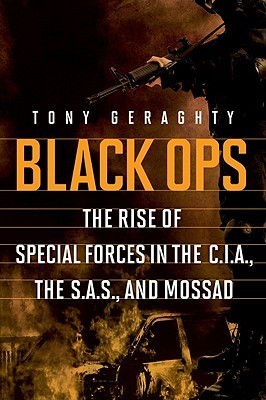 My rating for Black Ops– 3
Buy Black Ops from Amazon.com*
More books by Tony Geraghty*
More books narrated by Mirron Willis *
Thoughts:
This book is about special forces and intelligence agencies, and their operations. The narrative of Black Ops: The Rise of Special Forces in the CIA, the SAS, and Mossad by Tony Geraghty concentrates on the services of four countries: The United States, England, and Israel.
For such a relatively short book, about a wide subject, it contains a wealth of knowledge. There is a lot of insight, accurate research, and certain knowledge of the subject. The text contains many interesting anecdotes, as well as some interesting insights which make the reading fascinating.
It was difficult to discern any types of conclusions or takeaways, which, I would imagine, are only appropriate concerning the subject matter. I also found it unusual that the author goes from a very coherent narrative to editorials, to opinion pieces. For me, it was very distracting going from historical anecdotes to an opinion that had no place in this book. These were no analyses or takeaways, but flat-out opinions.
Whether I agree or disagree with them is irrelevant, for me at least.
The narrator kept mispronouncing words, unit names, and places (calling the Medellin cartel the "medallion" cartel was especially jarring). I hated that he kept reading the abbreviations of military ranks (G-E-N instead of just saying "general"), it was annoying as well as distracting. It was as if an artificial intelligence robot would have read in a mechanical, rhythmless voice.
I wish I would have read this book instead of listening to it. The subject matter is interesting, and the epilogue was fascinating with its conclusions.
Buy Black Ops from Amazon.com*
More books by Tony Geraghty*
More books narrated by Mirron Willis *
Zohar — Man of la Book
Dis­claimer: I bought this book through an Audible.com membership.
*Ama­zon links point to an affil­i­ate account, the money is usually spent on books
--- Please like and follow ManOfLaBook.com ---
Summary
Reviewer
Review Date
Reviewed Item
Black Ops: The Rise of Special Forces in the CIA, the SAS, and Mossad by Tony Geraghty
Author Rating