The London Guardian Post Examiner reports that A bipartisan group of Congressional members have proposed a bill, written by WIKeR (Writing Industry for Knowledgeable Readers), a Washington DC publishers' lobby group, which will change the way eBooks are being sold. The bill is in response to a recent case where a Federal judge granted class action status to eBook pricing scandals and misappropriations.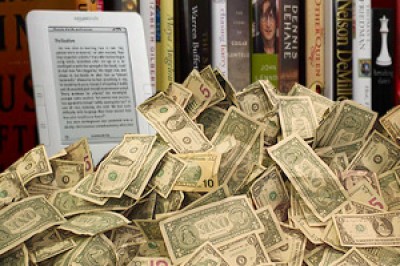 According to Senator Bill Sikes (R-IL) and Senator Ernie S. Blofeld (D – NY) the proposed bill, named the Readers Right to Read, or R3, will treat eBooks as rented software as opposed to purchased copy for personal use. Currently, when readers buy and eBook, they get a copy but do not own it (much like when you buy Microsoft Windows), this bill will change that agreement.
With R3, eBook publishers will be able to create different purchasing platforms, and will be able to charge readers per page, per time allocation, per usage or per download.  For example, publisher X might charge it's users a penny a page (or more), while publisher Y might charge a penny a minute (or more). On the other hand publisher P might want to charge the reader per download (PC, Kindle, etc.) or they might decide they like the current structure and not change a thing.
Senator Sikes explains: "R3 will give readers, many of them are from struggling middle class American families, the choice of how they want to pay for the eBooks, it's a bill about freedom. If, for example, you pay per page the struggling reader will not have to pay full price if they only read half the book." When asked if the readers or the publishers would determine the pricing scheme, the Senator said that it would be at the publisher's desecration.
Senator Blofeld said the bill would allow publishers to capture information about their readers as well, getting their reading lists from Amazon, Goodreads and local libraries, in order to be able to "suggest" other titles to knowledgeable readers. "R3 would allow publishers to use social media information in order to create a more educated consumers", the Senator said, "it's about freedom", he reiterated. When asked to define "social media", the Senator asked to e-mail his staff for further clarifications.
When asked about the current wave of independent writers, both Senators agreed that, while certainly admirable, they will be forced to abandon current practices. "The independent writer will have to get a publisher to sell their books", Blofeld said, "Otherwise the struggling middle class will suffer the consequences. It's about freedom!"
The Senators have not addressed what would happen if publishers would decide to change the agreement after a user has already agreed to purchase under a certain payment platform. "The kinks still need to be ironed out", Sikes said, "but I don't  see why the agreement couldn't change, it's about freedom, you know."
What do you think of R3?
--- Please like and follow ManOfLaBook.com ---