Tomorrow, February 18 we will celebrate the birthday of award winning author Toni Morrison. An author, speaker, professor, and mother, Ms. Morrison has accomplished a lot and deserves to be honored as one of American's greatest living treasures.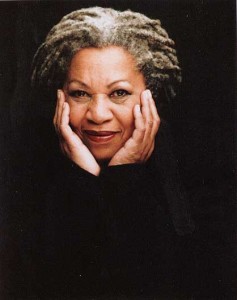 1 ) Born Chloe Anthony Wofford, Ms. Morrison changed her name because people found Chloe hard to pronounce.
2 ) Upon entering first grade, Ms. Morrison was the only black child… and the only one that could read.
3 ) One of Toni Morrison's favorite authors is Jane Austen.
4 ) Morrison's theses in college was on the suicides of famous authors.
5 ) Ms. Morrison was one of the very few black editors at Random House.
6) Ms. Morrison shares her birthday with another famous author: Sholem Aleichem.
7 ) In 1987 Toni Morrison became the first African American woman to hold a named chair at an Ivy League university when she was named the Robert F. Goheen Professor in the Council of Humanities at Princeton University, New Jersey.
8 ) Ms. Morrison won the 1988 Pulitzer Prize in literature for Beloved.
9 ) Winning in the Noble prize in 1993 cemented Ms. Morrison's status in history as the first African American to receive the prestigious award.
10) 1993 was also the year Ms. Morrison's home caught on fire.
Zohar – Man of la Book
Related articles
--- Please like and follow ManOfLaBook.com ---