Tomorrow, September 3 will be the birthday of author and cartoonist Mort Walker (September 3, 1923). Mr. Walker (website) is mostly known for creating the comic strip Beetle Bailey in 1950 as well as Hi and Lois in 1954. Mr. Walker has written several excellent books on comics history and comic art as well as children's books.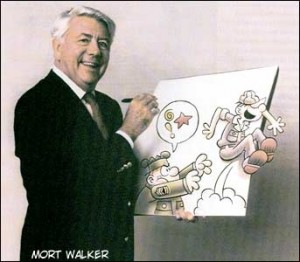 1 ) Born Addison Morton Walker in El Dorado, KS but grew up in Kansas City, MI.
2 ) Published his first comic strip at age 11.
3 ) Sold his first cartoon at age 12.
4 ) At 15 Mr. Walker already worked as a comic=strip artist for a newspaper and was chief editorial designer at Hall Brothers by the time he was 18.
5 ) Serving in the Army during World War II, Mr. Walker was honorably discharged as a first lieutenant.
6 ) "Beetle Baily" was picked up for syndication in 1950 by King Features.
7 ) In 1954 the Army's paper Stars & Stripes dropped the strip because "it supposedly engendered lack of respect for officers". Subsequently and due to the large press this move received the strip was picked up by more than 100 newspapers.
8 ) In 1970, Lt. Jack Flap was the first African American character to be incorporated in an established strip with a white case. Unbelievably today (maybe not so much) 100 southern newspapers dropped the strip but 100 others picked it up.
9 ) In 1974 Mr. Walker founded the Museum of Cartoon Art.
10) Mr. Walker is the proud recipient of "The Decoration for Distinguished Civilian Service" which is the highest award the Secretary of the Army can give a civilian.
Zohar – Man of la Book
Related articles
--- Please like and follow ManOfLaBook.com ---