About:
The Cleaner by Mark Dawson is a novel following John Milton, an government assassin trying to make amends. Mr. Dawson is author and a lawyer, his books have been published in several languages.
 342 pages
Publisher: CreateSpace Independent Publishing Platform
Language: English
ISBN-10: 1492354252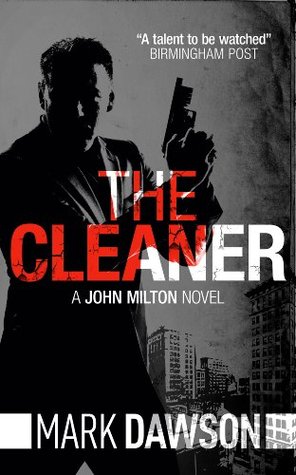 My rat­ing for The Cleaner  — 3
Buy The Cleaner from Amazon.com*
More Books by Mark Dawson*
Thoughts:
The Cleaner by Mark Dawson has a great premise, a professional state-sanctioned assassin suffering from PTSD and is trying to leave the profession. As a James Bond fan (which it seems like the author is as well, since his description of Milton is lifted almost word for word from the Fleming novels) this sounded something right up my alley and I picked it up, hoping for an exciting read.
Most of novel, however, is focused on a young man struggling through life in the bad part of Hackney, London. He is still morbid about the death of his older brother and is on the fast track to ruining his life.
The pacing of the book was problematic for me, it started out fast, than slowed down tremendously when the author gives us the background of John Milton, through a dossier. Milton, on a high profile kill, left a witness (a child) and kills a cop, now his handlers are after him.
The story picks up when Milton, out of his element, starts making mistakes on top of mistakes. He starts a gang war, gets people killed, hurts his new friends and worst of all, gets framed for murder and is on the run – nothing which would indicate he used to be a professional troublemaker.
The story arcs never come together into a cohesive story, which is too bad. It's almost as if the author had some great ideas and wanted to get all of them across, but never finishes due to time, space and/or length.
While predictable and somewhat fragmented, this has all the makings of a good series. The book is nowhere near as racy or explicit as the Bond books, and is easy to follow and enjoy.
Synopsis:
John Milton is trying to leave a profession which is difficult to leave, but also difficult to stay in. Milton is bogged by nightmares and is insistent that his next job is also his last.
Sharon Warriner is a single mother on the verge of suicide. John Milton saves her life and promises to help, but Sharon's son is involved with gangs who are not known for being cooperative.
Buy The Cleaner from Amazon.com*
More Books by Mark Dawson*
Zohar — Man of la Book
Dis­claimer: I got this book for free.
*Ama­zon links point to an affiliate account
--- Please like and follow ManOfLaBook.com ---
Summary
Reviewer
Review Date
Reviewed Item
The Cleaner by Mark Dawson
Author Rating





Product Name
The Cleaner by Mark Dawson