About:
Tarzan the Untamed by Edgar Rice Burroughs is the seventh novel in the series featuring the King of the Jungle. The book was originally published as two separate stories in two separate magazines -Tarzan the Untamed / Tarzan and the Huns in Redbook (March-August 1919) and Tarzan and the Valley of Lune in All-Story Weekly (March-April 1920).
254 pages
Publisher: Ballantine
Language: English
ISBN-10: 0345241665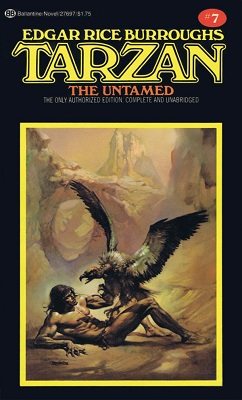 My rat­ing for Tarzan the Untamed— 4
Buy this book in paper or FREE in elec­tronic format*
More Books by by Edgar Rice Burroughs
Thoughts:
I have two pieces of advice when reading Tarzan the Untamed by Edgar Rice Burroughs or actually any of Burroughs' novels:
1)      Read the first novel, Tarzan of the Apes and at least one more novel
2)      Keep in mind the times this novel was written in, by today's standards it would be considered racist.
I really enjoyed this book, the novel brings back something that the movies have missed, Tarzan's famous sense of humor. I completely missed this aspect of the stories in my re-reading of the Tarzan novels but now I do remember how much I enjoyed the jokes as a kid.
Much like other Burroughs novels, the book is filled with improbable stories, unbelievable escapes, ferocious beasts, beautiful beasts and a host of villains. While the ending was abrupt, the rest of the novel was lots of fun even though much of it was simply silly (Tarzan roping a plan with a grass rope).
It is not clear what the author has to gain from killing (?) Jane in this novel. Maybe he changed his mind later, maybe pop-culture took a hold of Jane, what it might be it didn't work but I could certainly see the two ending up together.
Even though the story is formulaic at best, the sense of humor and escapism make it a classic. A fun book to read on a rainy day, dreaming of adventures, set during World War I.
Synopsis:
During World War I, while John Clayton, Lord Greystoke (Tarzan) is away from his plantation it is destroyed by invading German troops. When he returns to the plantation (in British East Africa), Tarzan discovers many bodies one of whom belongs to his wife.
Angered Tarzan seeks revenge on all Germans and goes to the battle front in East Africa. After he exacts his revenge, Tarzan seeks the apes, his friends. As the story continues Tarzan falls into the hands of cannibals and meet Harold Percy Smith-Oldwick, a British pilot and other characters who he bonds with.
Buy this book in paper or FREE in elec­tronic format*
More Books by by Edgar Rice Burroughs
Zohar — Man of la Book
Dis­claimer: I got this book for free.
*Ama­zon links point to an affil­i­ate accoun
--- Please like and follow ManOfLaBook.com ---