I got this eBook for free.
Arti­cle first pub­lished as Book Review: We, The Drowned by Carsten Jensen on Blogcritics.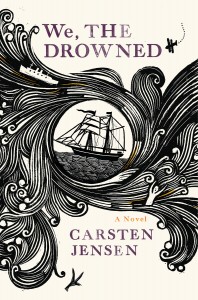 My Rat­ing for We, the Drowned — 5
About:
"We, The Drowned" (Web­site) by Carsten Jensen is a spell­bind­ing, award win­ning (Danske Banks Lit­ter­atur­pris) fic­tional book which spans 100 years in the lives of the inhab­i­tants of the small Dan­ish coastal town Marstal. Jensen's debut novel is already hailed as an instant clas­sic and right­fully so.
Thoughts:
Did you ever open a book, read the first para­graph and sim­ply knew that you are in for a treat?
This was how I felt about Carsten Jensen's "We, the Drowned".
The "we" in the title is present through­out the novel as the nar­ra­tor spins his tale. It is obvi­ous that the nar­ra­tor is from the Dan­ish port town Marstal, part of the com­mu­nity who bears wit­ness for a Cen­tury. We never know who the anony­mous nar­ra­tor is and that is part of the bril­liance of this epic novel.
The char­ac­ters in the book come right off the page. The whole town comes alive and the reader gets to know the main char­ac­ters as well as the sup­port­ing cast. The women who go on liv­ing with their fathers, hus­bands, broth­ers and sons off for years on a voy­age who they might, and often not, come back. We get to feel the anx­i­eties and aspi­ra­tions of the sailors, the plight of the women as well as the town's children.
The sub­ject mat­ter of this book is not pretty and often bru­tal. Marstal is a town of sailors with a famous nau­ti­cal col­lege – any cit­i­zen who is not at sea can eas­ily feel bit­ter. Such is school mas­ter Isager, a sadis­tic sad man who after a day of phys­i­cally and men­tally pun­ish­ing the kids has to go home so his "fat and psy­cho­pathic [wife] would thrash [him]". (For­give me Roger Waters).
"We, The Drowned" makes a vivid and lucid point how a com­mer­cially suc­cess­ful soci­ety (the town of Marstal) can live in peace­ful avoid­ance of the fact that their pros­per­ity comes at the expanse and mis­ery of hun­dreds of thou­sands, if not mil­lions, of people.
The polit­i­cal & social com­men­tary along with an ambi­tious story and vivid char­ac­ters is a win­ning com­bi­na­tion. The char­ac­ter of Albert Mad­sen, who returns from a voy­age to find his miss­ing father serves as the book's, and the town's, moral cen­ter. Albert men­tors the young Knud Erik, the hero of the sec­ond half of the book.
Much like life this is not a tidy book, the col­or­ful sto­ries which the author claims have a grain of truth in many of them, turn from tidy to wild with an uplift­ing and sober­ing mes­sage at the end.  Much of the book explores the sense of com­mu­nity and the moral­ity a small town vs. the closed uni­verse of a ship  vs. reli­gion.
All dif­fer­ent but also have many things in common.
This book is an adven­ture story, romance, com­ing of age, a tale of war, love and lost rolled into one. The novel is bril­liant, funny and heart­warm­ing told through fab­u­lous writ­ing which beg to be savored. The clos­ing para­graphs are what tie the book together and are a mas­ter­piece all by themselves.
Great job by trans­la­tors Char­lotte Barslund and Emma Ryder – one of the best trans­lated books I've ever read.
Bot­tom line: I can­not say enough good things about this book.
Syn­op­sis:
Lau­rids Mad­sen goes off to fight the Ger­mans along with other men of the town of Marstal in 1848. Lau­rids ends up on a boat which explodes and sends him up to the heav­ens, only to land in safely in his heavy boots, claim­ing he showed St. Peter his ass. How­ever Lau­rids is lost to Marstal and aban­dons his family.
Albert Mad­sen, Lau­rids' son sails in search of his miss­ing father. Albert finds seedy com­pany, war­fare and a shrunken head. Upon his return Marstal begins to change rapidly as the women try and reclaim the men from the ocean.
Albert men­tors the small boy Knud Eric who grows up to be a sailor as well, against his mother's wishes. Through Knud's eyes we see World War II, how he becomes a man and, together with other Marstal natives, fights the Nazis.
Zohar — Man of la Book
Related arti­cles
This post is in the 62nd

Pub­lished at I'll Never For­get The Day I Read A Book!
BOOK BLOGGERS — Have you read "We, The Drowned"? If so link up your review below

Enjoy this post? Why don't you sign up for the RSS feed