About:
Wanted: Gen­tle­man Bank Rob­ber: The True Story of Leslie Ibsen Rogge, One of the FBI's Most Elu­sive Crim­i­nals by Dane Batty is a true-crime book about the crim­i­nal career of this elu­sive man.
218 pages
Pub­lisher: Nish Pub­lish­ing Company
Lan­guage: English

ISBN-10

: 0615268455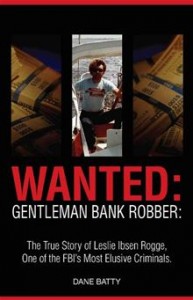 My Rat­ing for Wanted — 3
Buy this book in paper or elec­tronic format*
Thoughts:
Dane Batty (Face­book) wrote Wanted: Gen­tle­man Bank Rob­ber when he heard the sto­ries his uncle, Leslie Ibsen Rogge, told or being told about him. As a young man Mr. Batty admired his uncle's dar­ing dues and it seems he does so to this day even though it seems the man will die in prison.
This is a very enter­tain­ing and easy to read book, but with very lit­tle reflec­tion, ret­ro­spect and analy­sis. There are sto­ries of dar­ing rob­beries and escape, but very lit­tle about the heavy price Mr. Rogge paid in per­sonal free­dom, fam­ily life and financial.
The sto­ries them­selves are inter­est­ing but, as it is with many books of this type, it seems they were writ­ten to keep them in the fam­ily rather for the gen­eral pop­u­lace. What I mean that in order to get the full effect of the book, one would have to know Mr. Rogge per­son­ally; that is not a crit­i­cism – it's just is and every time I read these type of books I am reminded that I must also put down my family's his­tory in writ­ing before it's too late.
For part of the book I felt that the author wanted me to have pos­i­tive feel­ings towards Mr. Rogge, I have no doubt that he loves his uncle very much and even admires him at a cer­tain level since his life seems more like a Hol­ly­wood movie than real, but I had a hard time doing so. I didn't buy Mr. Rogge's claim that if things turned vio­lent he would walk away, nor his "gen­tle­manly" pseu­do­nym seemed appro­pri­ate. I cer­tainly got the idea that Mr. Rogge is a very charm­ing fel­low but in a "let me do you a favor and sep­a­rate you from your money" type of way. A per­son you'd be happy to give your money to even though you should know bet­ter.
even though you should know better.
After fin­ish­ing this book I had mixed feel­ings, it was enter­tain­ing but I did not want to like Mr. Rogge. I felt uneasy, much like read­ing about stock bro­kers mak­ing a killing in the stock mar­ket, get­ting tons of money from thin air or rob­bing (legally) pen­sion funds – you admire the chutz­pah, but despise the method. Mr. Rogge's way of going through life sim­ply rubbed this hard work­ing per­son the wrong way – even though he claims rob­bing banks is a "vic­tim­less crime", which it's not.
Buy this book in paper or elec­tronic format*
Zohar — Man of la Book
Dis­claimer: I got this book for free
*Ama­zon links point to an affil­i­ate account
BOOK BLOGGERS — Have you read Wanted? If so link up your review below:
Enjoy this post? Why don't you sign up for the RSS feed