First week of the new year is over and a new Twit­ter Roundup, also the first one of the new year.
My goal this year is to read 100+ books. I've man­aged to do so for the past 2 years and am already on my sec­ond book for 2013.  Hav­ing this blog is cer­tainly an inter­est­ing expe­ri­ence, it makes me read a heck of a lot more (but I was always look­ing for a rea­son to read more) and allows me to write my thoughts about the books I read in a for­mat which, hope­fully, would last a while.
In 2012year I actu­ally read about 15 less books then 2011, there are sev­eral rea­sons: work, fam­ily and because I read longer books (War & Peace among them). How­ever, this is not a con­test and I'm happy with the 144 books I read this year.
The books I get from dif­fer­ent sources, I have four mouths to feed, so buy­ing 100 books a year is out of the ques­tion, but I still do buy many books. The major­ity though I get as ARCs, the library or from friends. My only wish is to read faster and have more time to sim­ply read, but at my very advanced age (43 — one foot in the grave and the other on a banana peel) my eyes are start­ing to go the way of the Dodo and frankly, the demands on my time are get­ting larger and larger.
Not that I'm com­plain­ing mind you, I'm still aver­ag­ing almost 100 pages per day.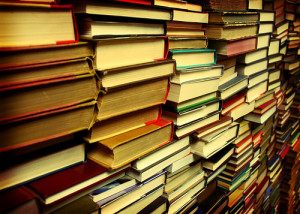 Zohar —  Man of la Book
Enjoy this post? Why don't you sign up for the RSS feed