First week of the new year is over and a new Twitter Roundup, also the first one of the new year.
My goal this year is to read 100+ books. I've managed to do so for the past 2 years and am already on my second book for 2013.  Having this blog is certainly an interesting experience, it makes me read a heck of a lot more (but I was always looking for a reason to read more) and allows me to write my thoughts about the books I read in a format which, hopefully, would last a while.
In 2012year I actually read about 15 less books then 2011, there are several reasons: work, family and because I read longer books (War & Peace among them). However, this is not a contest and I'm happy with the 144 books I read this year.
The books I get from different sources, I have four mouths to feed, so buying 100 books a year is out of the question, but I still do buy many books. The majority though I get as ARCs, the library or from friends. My only wish is to read faster and have more time to simply read, but at my very advanced age (43 – one foot in the grave and the other on a banana peel) my eyes are starting to go the way of the Dodo and frankly, the demands on my time are getting larger and larger.
Not that I'm complaining mind you, I'm still averaging almost 100 pages per day.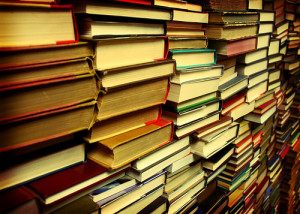 Zohar –  Man of la Book
Enjoy this post? Why don't you sign up for the RSS feed