I got this book for free.
Arti­cle first pub­lished as Book Review: The Trin­ity Six by Charles Cum­ming on Blogcritics.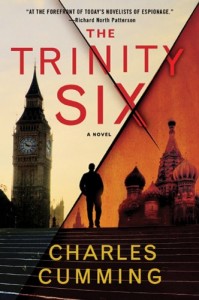 My rat­ing for The Trin­ity Six — 4
About: "The Trin­ity Six" by Charles Cum­ming (web­site) is a fic­tional spy thriller focus­ing on the the­ory that the Cam­bridge Five (a ring of Eng­lish Trin­ity Col­lege stu­dents who were spies for Rus­sia — Guy Burgess, Don­ald Maclean, John Cairn­cross, Anthony Blunt, and Kim Philby) had a sixth mem­ber. As always, what gets the politi­cians is usu­ally never the act, but the cover up.
368 pages
Pub­lisher: St. Martin's Press
Lan­guage: English

ISBN

: 0312675291
Pur­chase "The Trin­ity Six"
through the ManOfLa­Book affil­i­ate account on:
Ama­zon |Book Depos­i­tory US | Book Depos­i­tory UK
Thoughts:
In "The Trin­ity Six" by Charles Cum­ming, the author takes one of the most noto­ri­ous, writ­ten about spy rings ever and puts his spin on it. In this sce­nario there was a sixth man to the ring and the clues of the cover up go all the way up to the top of MI6.
The book is a well con­ceived story and prop­erly thought out. There are treach­eries galore, dou­ble agents abound and a big secret which I will not reveal. The author incor­po­rates mul­ti­fac­eted sto­ries of greed, betrayal and decep­tion and the all-too-common real­iza­tion that polit­i­cal lead­ers are ruth­less, amoral self-serving indi­vid­u­als and not the G-d fear­ing pub­lic ser­vants they paint them­selves to be.
There is very lit­tle action in the book; hence it is more a tale of intrigue. The first third of the novel is mostly a back story; how­ever Mr. Cum­ming is an intrigu­ing and enter­tain­ing author. Sam Gad­dis, the pro­tag­o­nist, is an inter­est­ing man who has a knack for being in the wrong place at the right time. Come to think of it, it's a mir­a­cle Sam Gad­dis sur­vived to the end of the novel.
I found the plot to be a bit too con­ve­nient, infor­ma­tion hap­pens to fall into Sam's lap just at the right time, but I did enjoy the Russian/British inter­ac­tion and the per­son who had the infor­ma­tion about the sixth man was a ter­rific char­ac­ter, com­plex and inter­est­ing. Mr. Cumming's knowl­edge and writ­ing tal­ent cer­tainly lends an air of reli­a­bil­ity to the sce­nar­ios he presents.
Over­all this is an enjoy­able book, as a sucker for spy nov­els I thought it was cer­tainly an agree­able work of fiction.
Syn­op­sis:
Dr. Sam Gad­dis, a British his­to­rian of Russ­ian his­tory, has a prob­lem, he owes a ton of money after his divorce and his ex-wife, who mar­ried a failed restau­ra­teur, is after him for more money for their daughter's edu­ca­tion. A tip falls into Sam's lap about the pos­si­bil­ity of a sixth man to the Cam­bridge Five. Soon Sam dis­cov­ers that any­one asso­ci­ated with the story ends up dead. An effi­cient MI6 offi­cer, whose job was to lead Sam off the case, helps Sam get out of hairy sit­u­a­tions in an inves­ti­ga­tion which could hurt those at the top of their power.
Pur­chase "The Trin­ity Six"
through the ManOfLa­Book affil­i­ate account on:
Ama­zon |Book Depos­i­tory US | Book Depos­i­tory UK
Zohar — Man of la Book
Related arti­cles
BOOK BLOGGERS — Have you read " The Trinty Six"? If so link up your review below
Enjoy this post? Why don't you sign up for the RSS feed