I bought this eBook.
This post was pre­vi­ously posted on Books from Bleh to Basi­cally Amaz­ing.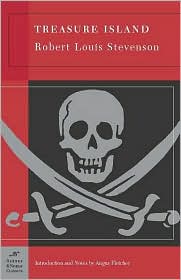 My rat­ing for Trea­sure Island — 5
About:
"Trea­sure Island" by Robert Louis Steven­son is an 1883 fic­tional adven­tur­ous and clas­sic pirate story.  The book fol­lows Jim Hawkins,  a young man, who has found a trea­sure map and with the help of friends hires a crew to find the trea­sure.  But the crew has their own plans.
Get a dis­count on "Trea­sure Island" through the ManOfLa­Book affil­i­ate account on:
Ama­zon |Book Depos­i­tory US | Book Depos­i­tory UK
Thoughts:
I read "Trea­sure Island" by Robert Louis Steven­son as a young boy and always remem­bered it as one of my favorites. Recently, as part of a clas­sics book club, I read it again.
The two main char­ac­ters of the book, Jim Hawkins and Long John Sliver have cer­tainly cemented them­selves as two of the most intrigu­ing and dimen­sional char­ac­ters in lit­er­a­ture. I was happy to recon­nect with them almost as if they were old friends.
The first half of the book was a breeze to read, but the sec­ond half was a bit more dif­fi­cult due to the pirate's slang, cum­ber­some metaphors and tongue tied con­ver­sa­tions.  How­ever, I quickly re-discovered that those quirks were part of the charm of the book.  Even Jim Hawkins admits he has trou­ble under­stand­ing the nar­ra­tive – so I wasn't alone.
I read the Barnes and Noble clas­sics ver­sion, which came with a fas­ci­nat­ing biog­ra­phy of Steven­son espe­cially regard­ing "Trea­sure Island".  The book was actu­ally writ­ten for Stevenson's step­son, after paint­ing the island he started the novel and com­pleted 15 chap­ters.  Steven­son fin­ished the book in Switzer­land writ­ing a chap­ter a day.
Unknow­ingly, Steven­son cre­ated much of the pirate lore which we have been accus­tomed to.  The pirate speak­ing almost unin­tel­li­gi­bly, a par­rot on his shoul­der, miss­ing a foot and ready to dou­ble cross his best friends for a buck or two.
My biggest sur­prise upon read­ing "Trea­sure Island" as an adult was that I real­ized that the story is not about Jim Hawkins, but about Long John Sil­ver.  Granted that usu­ally the vil­lain in any book is usu­ally more col­or­ful and fun than the upstand­ing pro­tag­o­nist – but this dis­cov­ery has taken by sur­prise.  Silver's moral ambi­gu­ity is well known but just how amoral the char­ac­ter is I never fully real­ized as a naïve child (even though I have become a naïve adult).
I was happy to dis­cover that "Trea­sure Island" truly deserves its sta­tus as a beloved clas­sic.  The story is sus­pense­ful and the adven­ture can be enjoyed by chil­dren of any age.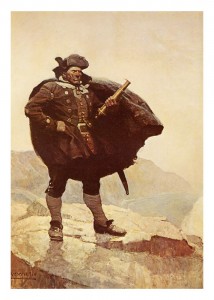 Syn­op­sis:
I the mid 18th Cen­tury at a sea­side vil­lage in south-west Eng­land Jim Hawkins, the young son of the keep­ers of the Admi­ral Ben­bow Inn, meets and old sea­man named Billy Bones. Quickly Jim dis­cov­ers that Bones is a pirate and that his old crew­mates want Bones' sea-chest.
Bones dies and Jim opens his sea-chest to col­lect the money owed to the inn – only to dis­cover a mys­te­ri­ous oil­skin packet.  The packet is a detailed map of an island Jim, together with Dr. Livesey and Squire Trelawney, hire a crew to sail to the island.
But the crew are not the hon­est sailors they think they are and the sea-cook, Long John Sil­ver, turns out to be the most dan­ger­ous one of them all.
Get a dis­count on "Trea­sure Island" through the ManOfLa­Book affil­i­ate account on:
Ama­zon |Book Depos­i­tory US | Book Depos­i­tory UK
Zohar — Man of la Book
Related arti­cles
Enjoy this post? Why don't you sign up for the RSS feed