About:
Three Lives of Tomomi Ishikawa by Ben­jamin Con­sta­ble is an imag­i­na­tive novel. This is the debut novel for a very promis­ing new writer.
352 pages
Pub­lisher: Gallery Books; Orig­i­nal edition
Lan­guage: English

ISBN-10

: 1451667264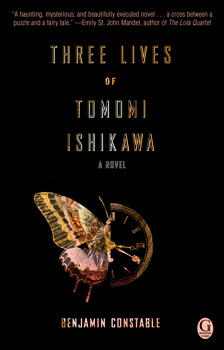 My rat­ing for Three Lives of Tomomi Ishikawa — 4
Buy this book in paper or elec­tronic format*
Thoughts:
Three Lives of Tomomi Ishikawa by Ben­jamin Con­sta­ble (web­site | Face­book | @b_constable | Goodreads) is an imag­i­na­tive and some­what inter­est­ing novel. I loved the way it was writ­ten, with a slight of hand and a healthy sense of humor, but as the story pro­gressed it started to fall a bit flat.
The one enigma which is con­stant through­out the book and in between the lines is the rela­tion­ship between Tomomi Ishikawa and Ben­jamin Con­sta­ble. That rela­tion­ship is con­fus­ing to say the least because there is one real rela­tion­ship and two imag­i­nary ones: the real rela­tion­ship and the fic­tional his to hers and hers to his. While I think it was a great premise and some­thing that would cer­tainly be applic­a­ble to real life, the rela­tion­ship between the char­ac­ters and between the rela­tion­ships them­selves was never really explored.
As much as I try I can­not char­ac­ter­ize this book, I admire Mr. Con­sta­ble for writ­ing a novel which defies a genre. I think that part of the enjoy­ment of this book is that it defies nor­mal con­ven­tions – it's part mys­tery, part thriller, part com­edy, part tragedy, a psy­cho­log­i­cal thriller and a love story all mixed in together.
It seems that Mr. Con­sta­ble has put much work and thought into this book and had either very good advice or read his own story as if he is read­ing some­one else's work. The nar­ra­tor (Mr. Con­sta­ble him­self) is always a step ahead of the reader nar­rat­ing this quirky story with a wink and a smile.
The novel is a fas­ci­nat­ing read, if only for the lit­er­ary strolls through New York City and Paris, the char­ac­ters are inter­est­ing as well as a story which has sev­eral angles all told by the same nar­ra­tor. Not all plot points are neatly tied up in this book, much like real life, even the end­ing is ambigu­ous but in my opin­ion, the end­ing didn't really mat­ter.

Syn­op­sis:
Tomomi "But­ter­fly" Ishikawa com­mit­ted sui­cide but left her best friend, Ben­jamin Con­sta­ble, a trail of clues which lead him from Paris to New York and back – the cities she called "home". Ben is search­ing for jour­nals and notes left specif­i­cally for him.
Ben goes on his quest which gets stranger with each new find­ing. With his imag­i­nary cat and a girl which helps him around the unfa­mil­iar ter­ri­to­ries in New York, Ben dis­cov­ers new aspects of his friend which he never imagined.
Buy this book in paper or elec­tronic format*
Zohar — Man of la Book
Dis­claimer: I got this book for free.
*Ama­zon links point to an affil­i­ate account
Enjoy this post? Why don't you sign up for the RSS feed