About:
War and Peace by Leo Tol­stoy is a fic­tional book first pub­lished in 1869. The work is regarded as one of the most impor­tant works of world lit­er­a­ture. The copy I read was trans­lated by Louise and Aylmer Maude.
1350 pages
Pub­lisher: Oxford Uni­ver­sity Press,

USA

; New edition

ISBN

: 0199232768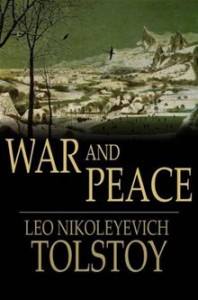 Thoughts:
Many peo­ple have com­plained about Tolstoy's lengthy epi­logues for War & Peace, I for one found them fas­ci­nat­ing and inter­est­ing. They tie up the book nicely, let the reader fill in the gaps and plot.
After fol­low­ing the char­ac­ters of the book for almost decade, Tol­stoy jumps ahead another decade before begin­ning the epi­logues prov­ing once again that the only con­stant in life is change. While the char­ac­ters are older, they are not wiser, still bum­bling through life look­ing for answers which they will never get.
One of the few char­ac­ters which is con­tent is Niko­lai, and that is only because he doesn't ques­tion life, but lives his life and takes on what­ever is thrown at him. Even though Andrei is dead, his pres­ence is felt through his young son.
A happy end­ing – I think not!
Actu­ally, the epi­logue 1 has some of the sad­dest part of the book.
Epi­logue 2 is an essay of the nature of free will. While not a par­tic­u­larly nat­ural part of the story, the sec­tion cer­tainly mer­its a read. Tol­stoy has many fas­ci­nat­ing obser­va­tions on human behav­ior, not only lead­ers but ordi­nary peo­ple as well. As a nov­el­ist, Tol­stoy has some won­der­fully inter­est­ing crit­i­cism of his­to­ri­ans and great his­tor­i­cal events. This is one part of the book which I actu­ally laughed out loud and tremen­dously enjoyed.
Syn­op­sis of Epi­logue 1:
Old Count Ros­tov has died leav­ing his fam­ily in poverty and Niko­lai, who has never run away from respon­si­bil­i­ties, inher­its the debts. Resign­ing his army com­mis­sion, Niko­lai moves to a small hose with the Count­ess and Sonya. Even­tu­ally Niko­lai and Maria get mar­ried, even though Niko­lai was almost impris­oned, and through hard work he man­ages to pay off the debts with­out resort­ing to sell­ing Sonya's prop­erty. The cou­ple lives on Bald Hills, even though it brings back bad child­hood mem­o­ries to Maria, and Niko­lai slowly buys back the old Ros­tov coun­try estates.
Pierre and Natasha got mar­ried. Natasha has gained a lot of weight and is jeal­ous of her hus­band to the point where Denisov won­ders what Pierre has seen in her. The Count­ess Ros­tov has lost all touch with real­ity while Sonya plays the role of a martyr.
Andrei's son, young Niko­lai, is also in Bald Hills. How­ever young Niko­lai and his uncle, the elder Niko­lai, don't get along too well. Niko­lai feels guilty because he doesn't love his young nephew as much as he loves his chil­dren. How­ever, every­one still loves Pierre.
Pierre is involved with many reac­tionary and secret polit­i­cal move­ments who con­stantly ques­tion author­ity, Niko­lai is thor­oughly annoyed by this and says so quite bluntly. Soon Niko­lai real­izes that young Niko­lai has heard the con­ver­sa­tion and is unhappy since he believes that a young mind should not be faced with dis­re­spect for author­ity. How­ever, young Niko­lai takes the side of his Uncle Pierre and says that his father, Andrei, would agree with them. Pierre knows that Andrei would not and walks away embarrassed.
Young Niko­lai builds his father up in his imag­i­na­tion to pro­por­tions which never were and is noth­ing like what Andrei has been. The son was not privy to the jour­ney that the read­ers took with Andrei, his lust for glory, dis­il­lu­sions and wish for that great spir­i­tual jour­ney we call "death". Young Niko­lai dreams he is march­ing with his Uncle Pierre when sud­denly Uncle Niko­lai appears in a men­ac­ing manner.
Zohar — Man of la Book
Dis­claimer: I got this book for free
*Ama­zon links point to an affil­i­ate account
Enjoy this post? Why don't you sign up for the RSS feed